A Year Into the Pandemic: The Diversity of Experience Amongst People With Severe Mental Ill Health
Peckham, E., Spanakis, P., Heron, P. , Crosland, S., Johnston, G., Newbronner, E., Wadman, R., Walker, L.

ORCID: 0000-0003-2459-7860 & Gilbody, S. (2022). A Year Into the Pandemic: The Diversity of Experience Amongst People With Severe Mental Ill Health. Frontiers in Psychiatry, 12, 794585. doi: 10.3389/fpsyt.2021.794585
Abstract
Background: The COVID-19 pandemic has amplified pre-existing health inequalities and people with severe mental ill health (SMI) are one of the groups at greatest risk. In this study, we explored the effects of the pandemic and pandemic restrictions on people with SMI during the first year of the pandemic.
Methods: We conducted a longitudinal study in a sample of people with SMI. The inception survey was carried out between July and December 2020. Participants were then re-surveyed between January and March 2021. People were contacted by telephone and invited to take part in the study over the phone, online or by postal questionnaire. Across both waves we asked participants about their physical and mental health, health risk behaviors, well-being, loneliness, and employment status.
Results: Three hundred and sixty-seven people with SMI completed the inception survey and 249 people completed the follow up. Whilst some people reported no change in their physical (77, 31%) or mental health (60, 24%) over the course of the pandemic 53 (21%) reported a continuing decline in physical health and 52 (21%) reported a continuing decline in mental health. Participants who maintained a daily routine or reported no decline in physical health were found to be associated with no deterioration in mental health (Daily routine OR 2.27, 95% CI 1.11–4.64; no reported physical health decline OR 0.54, 95% CI 0.17–0.70). Participants were less likely to be occupationally active in the first phase of the pandemic compared to before the pandemic and in the second phase of the pandemic. However, there was no one single experience of people with SMI and similar to studies in the general populations a range of different scenarios was experienced.
Conclusions: We observed a series of factors that might amplify pre-existing health inequalities. Health systems should be mindful of this, and should redouble efforts to set in place changes to practice and policy, which can mitigate these inequalities. Examples might include; raising awareness of the importance of ensuring that people with SMI receive an annual physical health check and supporting people to maintain a daily routine.
Publication Type:
Article
Additional Information:
© 2022 Peckham, Spanakis, Heron, Crosland, Johnston, Newbronner, Wadman, Walker and Gilbody. This is an open-access article distributed under the terms of the Creative Commons Attribution License (CC BY). The use, distribution or reproduction in other forums is permitted, provided the original author(s) and the copyright owner(s) are credited and that the original publication in this journal is cited, in accordance with accepted academic practice. No use, distribution or reproduction is permitted which does not comply with these terms.
Publisher Keywords:
schizophrenia, bipolar disorder, severe mental ill health, COVID-19, health risk behavior, inequalities
Subjects:
H Social Sciences > HN Social history and conditions. Social problems. Social reform
Q Science > QR Microbiology > QR180 Immunology
R Medicine > RA Public aspects of medicine > RA0421 Public health. Hygiene. Preventive Medicine
R Medicine > RC Internal medicine > RC0321 Neuroscience. Biological psychiatry. Neuropsychiatry
R Medicine > RT Nursing
Departments:
School of Health & Psychological Sciences > Nursing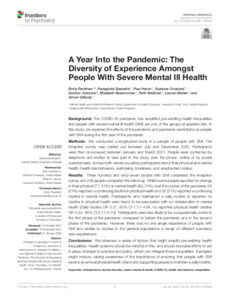 Preview
Text - Published Version
Available under License Creative Commons: Attribution International Public License 4.0.
Download (557kB) | Preview
Export
Downloads
Downloads per month over past year