Who is more likely to use doctor-rating websites, and why? A cross-sectional study in London
Galizzi, M. M., Miraldo, M., Stavropoulou, C. , Desai, M., Jayatunga, W., Joshi, M. & Parikh, S. (2012). Who is more likely to use doctor-rating websites, and why? A cross-sectional study in London. BMJ Open, 2(6), doi: 10.1136/bmjopen-2012-001493
Abstract
Objectives: To explore the extent to which doctor-rating websites are known and used among a sample of respondents from London. To understand the main predictors of what makes people willing to use doctor-rating websites.
Design: A cross-sectional study.
Setting: The Borough of Hammersmith and Fulham, London, England.
Participants: 200 individuals from the borough.
Main outcome measures: The likelihood of being aware of doctor-rating websites and the intention to use doctor-rating websites.
Results: The use and awareness of doctor-rating websites are still quite limited. White British subjects, as well as respondents with higher income are less likely to use doctor-rating websites. Aspects of the doctor–patient relationship also play a key role in explaining intention to use the websites. The doctor has both a 'complementary' and 'substitute' role with respect to Internet information.
Conclusions: Online rating websites can play a major role in supporting patients' informed decisions on which healthcare providers to seek advice from, thus potentially fostering patients' choice in healthcare. Subjects who seek and provide feedback on doctor-ranking websites, though, are unlikely to be representative of the overall patients' pool. In particular, they tend to over-represent opinions from non-White British, medium–low-income patients who are not satisfied with their choice of the healthcare treatments and the level of information provided by their GP. Accounting for differences in the users' characteristics is important when interpreting results from doctor-rating sites.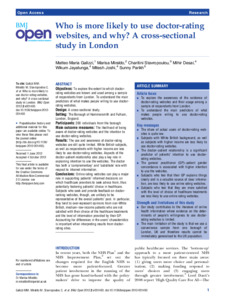 Preview
PDF - Published Version
Available under License Creative Commons: Attribution-Noncommercial 3.0.
Download (197kB) | Preview
Export
Downloads
Downloads per month over past year
Altmetric

Altmetric
CORE (COnnecting REpositories)

CORE (COnnecting REpositories)
Actions (login required)

Actions (login required)