'Catch me if you can'! A psychological analysis of managerial feedback seeking
McDowall, A., Asumeng, M. & Millward-Purvis, L. (2010). 'Catch me if you can'! A psychological analysis of managerial feedback seeking. Journal of Managerial Psychology, 25(4), pp. 385-407. doi: 10.1108/02683941011035296
Abstract
Aim: This paper locates managerial feedback-seeking in a self-regulation model in which self-motivational considerations are uppermost. It uses a qualitative psychological approach to address the question of when, what, how, from whom and why is feedback sought in a performance contingent managerial setting.
Method: Using Kelly's (1955) Repertory Grid technique, 10 managers' reflected systematically on their feedback seeking in an organizational context. A Grounded Theory framework was used to identify higher-order cross-case constructs.
Findings: Managers sought performance feedback when they perceived uncertainty and difficulty in the pursuit of their managerial functions and were minded of their need to develop their management skills. Consistent with the instrumental model, feedback seeking was highly goal-oriented and self-affirmative in pursuit of increased managerial competence. However, the finding that adds most to our understanding on both an empirical and theoretical level is in showing how managers' sought their feedback remotely, and from largely external sources, to reconcile development needs with self-protective considerations (i.e., image and ego-costs) in relation to subordinates and peers. These findings have implications for understanding feedback seeking as a multi-dimensional highly self-motivated process.
Limitations: Qualitative research uses small samples and this limits their empirical generalizability; however, our findings link with previous work indicating potential for hypothesis generation and theoretical development.
Implications: Questions are raised about whether managers feel able to seek performance feedback for learning and development purposes, without feeling threatened in their capability and worth as managers. We argue that the environment most conducive to feedback seeking is one in which manager's feel 'psychologically safe' rather than defensive about their capability (Edmonson, 2004).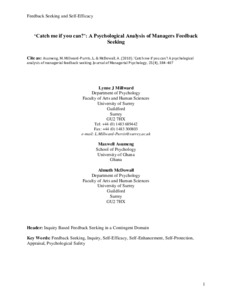 Preview
PDF - Accepted Version


Download (538kB) | Preview
Export
Downloads
Downloads per month over past year
Altmetric

Altmetric
CORE (COnnecting REpositories)

CORE (COnnecting REpositories)
Actions (login required)

Actions (login required)