Food projects in London: Lessons for policy and practice - A hidden sector and the need for 'more unhealthy puddings ... sometimes'
Caraher, M. & Dowler, E. (2007). Food projects in London: Lessons for policy and practice - A hidden sector and the need for 'more unhealthy puddings ... sometimes'. Health Education Journal, 66(2), pp. 188-205. doi: 10.1177/0017896907076762
Abstract
Background and Objective: Successive governments have promoted local action to address food components of public health. This article presents findings from research commissioned by the (then) London NHS Office, scoping the range of food projects in the London area, and the potential challenges to public health practice.
Methods: Research followed four overlapping phases with a London focus: (1) a systemized review of the literature, (2) analysis of health authority Health Improvement Plans (HImPs) and Coronary Heart Disease (CHD) local implementation plans and Health Action Zone reports, (3) a scoping exercise of`food projects' and community-based participatory projects with a food focus using food databases and directories, and (4) 29 in-depth interviews with individuals responsible for commissioning and running projects.
Results: There were, in 2001/2, a variety of food projects in the London area, ranging from small-scale social enterprises to those whose turnover marked them out as small businesses. There was a significant human resource cost in maintaining and setting up such projects both from NHS staff and in terms of volunteer and paid labour. The lack of an overall or area-based approach to food policy development in London was apparent, and little thought seemed to have been given to creating a supportive policy environment. Food projects often existed as isolated entities in a borough or health authority area, with short-term funding and little systemic long-term support. The majority employed what might best be called health education approaches. This is now partially addressed by the draft London Food Strategy.
Conclusions: Food projects run by local professionals and/or volunteers operated within an isolated policy and suffered from a lack of support both from financial and human resources perspectives. The potential for long-term delivery of improved health was unrealized, as was their potential contribution to a London-wide food economy and to London food policy.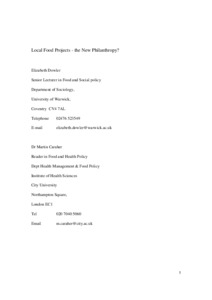 Preview
PDF


Download (75kB) | Preview
Export
Downloads
Downloads per month over past year
Altmetric

Altmetric
CORE (COnnecting REpositories)

CORE (COnnecting REpositories)
Actions (login required)

Actions (login required)