Digital Imaging and Screening for Diabetic Retinopathy
Hull, C. (2008). Digital Imaging and Screening for Diabetic Retinopathy. Optometry Today, pp. 28-35.
Abstract
The National Screening Committee has stated that "All people with diabetes aged 12 years and older should be offered screening for sight-threatening diabetic retinopathy using digital photography."1 Digital imaging offers several advantages such as archiving, ease of viewing evidence of progression, quality assurance, patient education and immediate indication of ungradable images. Knowledge of key aspects of digital imaging technology and performance therefore underpin screening for diabetic retinopathy in the UK. This article aims to discuss aspects of digital imaging related to diabetic screening as well as provide an indication of how computers can be used to automatically screen for sight threatening retinopathy. We live in a digital world but to start at the beginning, what is "digital"? Analogue signals vary continuously in that they can take any value e.g. sound or light. Photographic film is analogue in that the darkening of silver halide crystals increases continuously with light exposure. Digital devices represent signals using discrete levels and this is necessary if we are to exploit digital computers and display devices. Following some historical context, the remainder of this article will consider the steps in the process of imaging a diabetic funuds in some detail before finally examining automatic screening methods for diabetic retinopathy using image processing. The process of converting an analogue signal such as light variations in an image and converting it to a digital representation is known as sampling (fig. 1). Sampling has two important parameters: the spatial resolution and how many digital levels or "steps" are used to represent the light. The former is determined by the sensor resolution and the latter relates to the bit-depth of the image. Both will be considered in separate sections
below.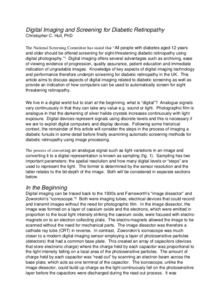 Preview
PDF - Accepted Version


Download (58kB) | Preview
Export
Downloads
Downloads per month over past year
Altmetric

Altmetric
CORE (COnnecting REpositories)

CORE (COnnecting REpositories)
Actions (login required)

Actions (login required)