Exploration of biological causes of psychological problems in polycystic ovary syndrome (PCOS)
Barry, J.A. (2011). Exploration of biological causes of psychological problems in polycystic ovary syndrome (PCOS). (Unpublished Doctoral thesis, City University London)
Abstract
Background: Polycystic ovary syndrome (PCOS) affects up to 10% of women, and is characterised by elevated testosterone (T) levels. Women with PCOS have higher scores than healthy women on a range of measures of psychological problems.
Objective: To test the hypotheses that: 1/ The female fetus in a PCOS pregnancy experiences elevated T levels; 2/ T causes mood disturbance in women with PCOS. 3/ women with PCOS show more signs of mood disturbance typical of symptoms of reactive hypoglycaemia than healthy controls.
Design: Mainly between-groups cross-sectional studies. Also two meta-analyses.
Setting: The research took place mainly in two London gynaecology clinics, University College London Hospital (UCLH) and the Royal Free Hospital, Hampstead (RFH). Some of the research was conducted online, and at three other gynaecology and fertility clinics.
Participants: Participants were recruited from hospital clinics, support groups for women with PCOS, or the internet. Most participants were women aged 18-40.
Outcome Measures: Testosterone; psychometric measures of mood disturbance.
Results: 1/ Elevated T was found in the umbilical cord blood of the female fetus in PCOS pregnancies; 2/ Mood problems in PCOS were not directly caused by T. 3/ Women with PCOS showed higher levels of mood problems typical of hypoglycaemia than controls.
Conclusions: The findings suggest the female fetus in a PCOS pregnancy may be exposed to relatively high levels of T. Mood problems in adults with PCOS are possibly caused by the direct effects of low blood glucose and indirect effects of T (e.g. obesity) than direct effects of T. Further research using the gold-standard biochemical assessment methods is required for any replications of these findings.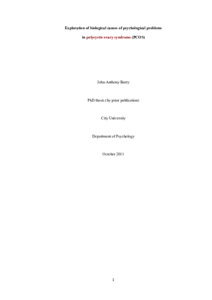 Preview
PDF - Accepted Version


Download (1MB) | Preview
Export
Downloads
Downloads per month over past year
Altmetric

Altmetric
CORE (COnnecting REpositories)

CORE (COnnecting REpositories)
Actions (login required)

Actions (login required)