A Portfolio on Family Experiences and the Motivation to Become Counselling Psychologists
Nam, J.C. (2011). A Portfolio on Family Experiences and the Motivation to Become Counselling Psychologists. (Unpublished Doctoral thesis, City University London)
Abstract
AIM: To understand the role family experiences play in the motivation of those pursing a career in counselling psychology.
METHOD: Eight trainee-counselling psychologists were recruited and interviewed about their family experiences and the influence they perceived their family had or had not on their motivation to become counselling psychologists. The interviews were transcribed and analysed using interpretative phenomenological analysis.
ANALYSIS: Analysis revealed four main super-ordinate themes offering an insight into how participants processed their family experiences and transformed them into motivation to become counselling psychologists. These were; 1) early view of self; 2) internalised family messages; 3) growth; and 4) adjustment challenges. The pathways between the super-ordinate themes show how family experiences play a significant role
in the development of individuals' personal and professional identity.

CONCLUSION: The findings of this study did not necessarily identify any direct links between family experiences and participants' motivation to become counselling psychologists, although it is certainly clear that an influence was apparent. The main findings in relation to the impact family experiences had on participants' motivation to become counselling psychologists were; a strong value towards care, a need to gain validation and avoid rejection, a process of separation-individuation and an investment in self: what I really want. Siblings were not identified as having an explicit influence on moccupational choice, but they did play a role in participants' early view of self and the way in which they internalised their family messages. The impact of participants' motivation on the family was identified as an overall reciprocal effect. The findings of this study can inform the training of counselling psychologists by offering guidance for personal therapy. The need for the profession of counselling psychology to become more prominent as a career choice within the field of psychology was also highlighted. Further research using other methodological approaches, such as grounded theory and narrative analysis will help delve further into the world of counselling psychology and those who are drawn to the profession. In addition to gaining more knowledge and understanding of counselling psychologists themselves, continuing to research this area will highlight any changes that might occur in a field where new developments are ongoing.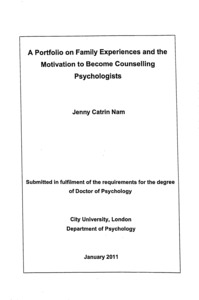 Preview
PDF - Accepted Version


Download (22MB) | Preview
Export
Downloads
Downloads per month over past year
Altmetric

Altmetric
CORE (COnnecting REpositories)

CORE (COnnecting REpositories)
Actions (login required)

Actions (login required)