Understanding and conceptualising the document triage process through information seekers' visual and navigational attention
Loizides, Fernando (2012). Understanding and conceptualising the document triage process through information seekers' visual and navigational attention. (Unpublished Doctoral thesis, City University London)
Abstract
Information, is a valuable commodity and its effective use is a vital part of everyday life. With the advancements of the internet and the increasing accessibility to it, the location of information is no longer the primary concern of information seekers. Digitisation techniques have made a wide variety of documents available on-line, and more and more publications are being published in electronic form simultaneously to their physical counterpart. The largest challenge currently facing information seekers is that of locating the correct information from the abundance available to them. Whenever a search query is made, the user is inundated with multiple options of documents to choose from. These documents are all deemed to have some relevance to the query produced by using an information retrieval algorithm. Thus far, automatic support has only been provided until the document retrieval level. The user is then left to search through the result set, mostly unaided, by the system he is using.
In order to facilitate support for the users, a solid understanding of the information seeker's behaviours during this triage process is vital. Thus far, research into the behaviour of information seekers during the specific triage behaviour is limited. Even more limited however, is the evidence reporting the visual attention of the users. Since the triage process is highly visual, this important element need to be thoroughly evidence before accurately conceptualising the entire process.
For this reason, this thesis aims to investigate the visual attention of information seekers during the document triage process. This will inform the modelling and conceptualisation of information seekers' behaviour during triage. In turn, this can be used to inform the design of supportive software. The thesis contains a review of related research and identifies the gaps that needs further investigation. From these, a series of user studies are then conducted on document triage. These in turn, facilitate the formulation and discussion of 2 document triage models and measurements to record the effectiveness of document triage.
We study the visual attention of information seekers in four lab based studies, eliciting their exact gaze and focus details. We expand current research in the information seeking domain by reporting on findings from users' triage activities on small screen devices and when under time constraints. Furthermore, a high level diary study, gives us richer data on participants' triage activities over a larger period of time in their natural surroundings. All the studies are brought together to elicit requirements and measurements to understand system and user efficiency during each stage of the triage process.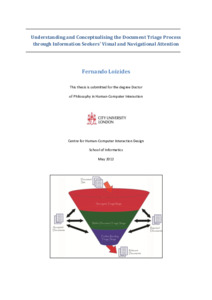 Preview
PDF


Download (23MB) | Preview
Export
Downloads
Downloads per month over past year
Altmetric

Altmetric
CORE (COnnecting REpositories)

CORE (COnnecting REpositories)
Actions (login required)

Actions (login required)