Finite element time domain method with a unique coupled mesh system for electromagnatics and photonics
Kabir, S.M. Raiyan (2015). Finite element time domain method with a unique coupled mesh system for electromagnatics and photonics. (Unpublished Doctoral thesis, City University London)
Abstract
The finite difference time domain (FDTD) method is a popular technique, being used successfully to analyse the electromagnetic properties of many structures, including a range of optical or photonic devices. This method offers several major advantages such as, a minimum level of calculation is required for each of the cells into which the structure is divided, as well as data parallelism and explicit and easy implementation. However, due to the use of the Finite Difference grid, this method suffers from higher numerical dispersion and inaccurate discretisation due to staircasing at slanted and curve edges. The rectangular computational domain in 2D and cuboid computational domain in 3D sometimes makes the method very resource intensive especially for large simulations.
Although the finite element (FE) approach is superior for the discretisation of both 2D and 3D structures, most of the FE-based time domain approaches reported so far suffer from limitations due to the implicit or iterative form or the mass matrix formulation, for example. Therefore, the speed of the simulation is much slower than the FDTD method. Time domain analysis of electromagnetic is a very resource intensive numerical technique. Due to the slow performance the FE based techniques are not as popular as the FDTD method. In this research work a new FE based time domain technique has been proposed for both 2D and 3D problems which is similar to the FDTD method explicit and data parallel in nature. The method proposed does not requires any matrix formulation or iteration. It uses minimum possible CPU cycles among any FE-based techniques. The method also utilises a unique meshing scheme to reduce the number of calculation to at least half for 2D and one fifth for 3D compared to any full mesh FE based technique.
The method also shows very low numerical dispersion when used with equilateral elements in both 2D and 3D. Thus the proposed method effectively produces results with less numerical dispersion error with lower density mesh compared to the FDTD method. When the advantage in resolution is taken into consideration, calculation of each time-step using the proposed method is significantly faster than the FDTD method.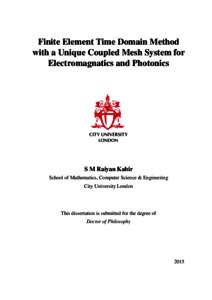 Preview
Text - Accepted Version


Download (13MB) | Preview
Export
Downloads
Downloads per month over past year
Altmetric

Altmetric
CORE (COnnecting REpositories)

CORE (COnnecting REpositories)
Actions (login required)

Actions (login required)