Aesthetic negativity and choreographic practice
Bucar, M. (2015). Aesthetic negativity and choreographic practice. (Unpublished Doctoral thesis, City, University of London)
Abstract
At the core of this doctoral submission is a portfolio of three of my recent choreographic works(all created between 2011-2014), complemented by a text, which attempts to formulate a theoretical approach for explicating the works, through the lens of Theodor Adorno's theory of the inherent negativity of modernist artworks. Such an approach places Adorno's ideas at the very centre of the analytical view presented here, albeit via the semiotic (re)articulation of these same ideas in recent work by Christoph Menke. This, in turn, draws on earlier work done within aesthetic semiotics by Viktor Shklovsky, through which it is hoped that insight, clarification, and historical contextualisation will be forthcoming, whilst also casting an eye on the contemporary situation within arts making. The thesis is therefore a theoretical analysis of aesthetically negative philosophical thought within choreographic practice, but simultaneously it is an attempt to point to new knowledge; namely an enhancement of Menke's semiotic reading of Adorno, extended from the field of literature from which it originates, and brought into the field of dance, movement, and choreography.
In addition to this, a vital second aspect of my approach will be a consideration of the extra - semiotic aspects of dance, read through a phenomenological understanding of kinaesthesia, and how our understanding of movement and choreography is rooted in basic aspects of our perceptive capabilities.
Prior to the introduction, the beginning of this thesis, there is a presentation of factual information regarding the production aspects of the performances in a brief Foreword. The structure of the thesis is then as follows. The Introduction offers a short historic overview of Adorno's theory of 'aesthetic negativity', and this is followed by three Chapters, titled: (1) Object and Subject, (2) Recombination, and (3) Projection. These three notions are not only essential to my work as methodological tools, but they also provide important references, connections and bilateral correspondences to similar concepts within Adorno's aesthetic theory, thereby clarifying the relationship between theory and practice in my work.
Chapter Four aims to re-inspect the works comprising The Urban Series in a similar fashion, while also placing their specific context within external, everyday and urban environments under critical examination.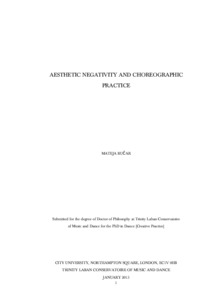 Preview
Text - Accepted Version


Download (1MB) | Preview
Export
Downloads
Downloads per month over past year
Altmetric

Altmetric
CORE (COnnecting REpositories)

CORE (COnnecting REpositories)
Actions (login required)

Actions (login required)