Cerebellum and apraxia
van Dun, K., Verhoeven, J. & Marien, P. (2014). Cerebellum and apraxia. Stem-, Spraak- en Taalpathologie, 19(1), pp. 175-177.
Abstract
Classical tenits posit that the role of the cerebellum is limited to pure sensorimotor control. However, evidence from clinical and imaging studies shows that the cerebellum is crucially involved in nonmotor cognitive and affective functions. Schmahmann and Sherman (1998) [1] introduced the cerebellar cognitive affective syndrome (CCAS), characterised by executive, visuo-spatial, affective and linguistic impairments caused by cerebellar pathology. Apraxia, as a planning, organisation and execution disorder of a skilled motor action (not caused by motor, sensory or intellectual impairment) [2], may be regarded to form part of the executive cluster of CCAS. Indeed, several anatomoclinical studies have confirmed involvement of the cerebellum in at least some types of apraxia, which adds to the nonmotor role of the cerebellum. According to Hugo Liepmann [3], apraxia is thought to evolve from a disruption of the creation, activation or retrieval of movement formulae. These formulae represent the idea of a movement as a visual or acoustic image and are stored in the left parietal lobe. The left prefrontal area subsequently associates these formulae with an inherently stored innervatory pattern to transfer the information to the left primary motor areas. The corpus callosum transfers this information to the right motor cortex if the movement is to be executed by the left limb [3]. Based on some recent clinical evidence we hypothesize that the cerebellum forms an intrinsic part of this connectionist model of Liepmann.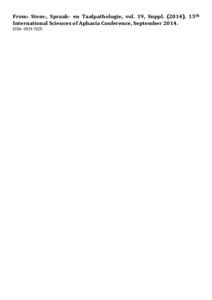 Preview
Text - Published Version
Available under License Creative Commons Attribution.
Download (611kB) | Preview
Export
Downloads
Downloads per month over past year
Altmetric

Altmetric
CORE (COnnecting REpositories)

CORE (COnnecting REpositories)
Actions (login required)

Actions (login required)