The potential of digital representation: The changing meaning of the Ife 'bronzes' from pre-colonial Ife to the post-colonial digital British Museum
Sogbesan, Oluwatoyin Zainab (2015). The potential of digital representation: The changing meaning of the Ife 'bronzes' from pre-colonial Ife to the post-colonial digital British Museum. (Unpublished Doctoral thesis, City, University of London)
Abstract
For many years, meanings and interpretations of artefacts that are taken to represent African culture including the Ife bronzes have been predominantly produced and fixed
by a team of western curatorial experts (Ciolfi, 2012). Such museum practices have prevented visitors and the people being represented by the artefact from participating in the process of interpretation and meaning-making. In the particular case of the 'Ife bronzes', the previous meaning and implications of the Ife 'bronzes' as part of 'the cradle of the world', according to Yoruba oral traditions, are yet to be given the amount of attention they deserve. For a long time the interpretations and meanings produced by curators were drawn from the writings and accounts of earlier western
travellers, explorers and colonial officials whose culture affected how the Ife bronzes have been perceived and interpreted (Coombes, 1997: Vogel, 1999). Today despite the impact of 'the new museology', strong traces of such biased interpretations and meanings are still evident in the framing of the Ife bronze head, exhibited at the British Museum Sainsbury African gallery as a 'funerary object' in postcolonial times. Such narratives highlight 'relations of power and not relations of meanings' (Foucault, 1980:114).
These contemporary exhibitionary frames highlight the need for interpretations and meanings that will consider how changing roles, ownership, usage, political situations and geographical location have affected and will affect the Ife bronzes. In this thesis I carry out this work, documenting the social life of the Ife bronzes from pre-colonial Ife to postcolonial digital British Museum. I argue that there is a need for a new space that
will encourage rewriting, revising and representing the Ife bronzes in a more capacious way to depict their changing meaning as they journeyed through time. This theory is in line with Hall (1997) and Foucault's (1980) theories that meanings and interpretations are not static but are affected by time and changing context.
The thesis therefore explores the multifaceted political, economical and sociocultural implications of the Ife bronzes. Despite these wider implications of Ife bronzes, they are still only too often shrouded in narratives that tend to validate the supremacy, civilisation and intellectual 'supremacy' of the West instead of substantiating the ingenuity, civilisation and intellectual capabilities of Africa. Digitisation is critically considered as offering a potential new space for representing Ife bronzes in a new light that might allow meanings with postcolonial ideology to emerge. Focusing on different periods involving the Ife bronzes (the pre-colonial, colonial and postcolonial) the thesis explores the potentials of digital representation. The thesis concludes that digital representation but only combined with a critical contextual approach, have the
potentials of initiating a more thorough decolonisation of the Ife bronzes through aninclusive participatory culture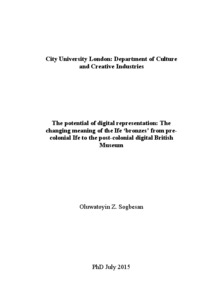 Preview
Text - Accepted Version


Download (5MB) | Preview
Export
Downloads
Downloads per month over past year
Altmetric

Altmetric
CORE (COnnecting REpositories)

CORE (COnnecting REpositories)
Actions (login required)

Actions (login required)