Word-finding Difficulties in Bilingual Aphasia : Implications for Speech Language Therapy
Croft, S. (2008). Word-finding Difficulties in Bilingual Aphasia : Implications for Speech Language Therapy. (Unpublished Doctoral thesis, City University London)
Abstract
Anomia is a common symptom of aphasia in both unilingual and bilingual speakers (Kohn & Goodglass, 1985; Stadie, Springer, de Bleser, & Bürk, 1995). In cases of bilingual aphasia, a key question is whether word finding is equally affected in both languages. This has implications both for models of bilingual lexical access and for rehabilitation. Although aphasia in bilingual language users has attracted considerable research attention, few rehabilitation studies have been conducted with this group (Roberts, 1998; Fabbro, 1999). As a result, clinicians lack evidence on which to base decisions when working with bilingual clients (Roberts, 2001).
This study reports the process of assessing and treating word finding difficulties in a group of bilingual speakers of Bengali and English with aphasia. The study also reports the process of developing tests of word finding suitable to be carried out with this population. The main questions were:
1. Is word production similarly impaired across languages in a sample of people with bilingual aphasia?
2. Is word finding improved by speech and language therapy and do effects generalise to the untreated language?
3. Do therapy outcomes depend on the nature of the treatment?
The data suggest that differential impairments are rare or difficult to identify. Most participants performed equally across the two languages, although two participants showed some evidence of such an impairment, in that they named, or responded to cues, more successfully in L2 than L1.
Findings show that therapy can improve naming in some bilinguals with aphasia, both in L1 and L2. They also show that therapy delivered through bilingual co-workers can be beneficial. Not all participants benefited from treatment, but evidence of positive outcomes from both semantic and phonological therapy for at least some participants is reported. Only semantic therapy brought about gains that generalised to the untreated language.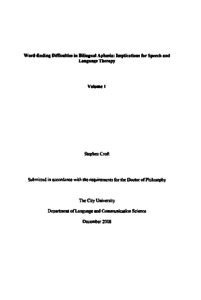 Preview
Text (Volume 1) - Accepted Version


Download (25MB) | Preview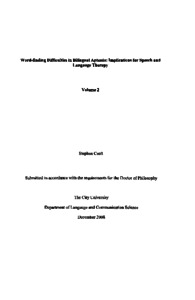 Preview
Text (Volume 2) - Accepted Version


Download (15MB) | Preview
Export
Downloads
Downloads per month over past year
Altmetric

Altmetric
CORE (COnnecting REpositories)

CORE (COnnecting REpositories)
Actions (login required)

Actions (login required)