Job loss, professional workers and health outcomes: a qualitative study
Partakis, K. V. (2017). Job loss, professional workers and health outcomes: a qualitative study. (Unpublished Doctoral thesis, City, Universtiy of London)
Abstract
Background: The economic events from 2008 have caused a new type of job loss, with professionals losing work at larger numbers. Where before professionals being made redundant were less than their blue-collar colleagues, we now see more professionals out of work due to sudden business changes and unable to secure re-employment because of high competition (Garret- Peters, 2009). Research into the health effects of redundancy and life after job loss in professional workers has started to pick up momentum, (e.g. Mendenhall, 2008 and Strully, 2009), but is still limited, with further investigations required.
Aim: The aim of the study was to explore how professional workers made sense of job loss from redundancies and understand how their interpretations may have effected health outcomes. Further questions were asked to investigate how some participants stayed relatively healthy whilst others found it hard to cope.
Design: This was a semi-structured qualitative study, interviewing participants at a singular time point. Participants were recruited from U.K. based Welfare to Work providers and Third Sector organisations specialising in employment advice.
Method: Interviews were conducted in person or over the telephone. The sample consisted of ten unemployed professionals, (N= 7 men; average age x= 43.5; age range= 33-58 years) (N= 3 women; average age x= 40; age range= 37-43 years), whom had lost their work roles through redundancies. Using principles from Interpretative Phenomenological Analysis, (Smith, 1996), allowed findings into participants' perceptions of redundancy and health choices during unemployment. These findings were then interpreted by using the Sense of Coherence formulation, (Antonovsky, 1979; 1987), to show health promoting properties in those that's seemed to be psychologically coping better and whom saw job loss as a life changing opportunity.
Findings: All participants perceived redundancy as an abrupt change to their professional identity. Depending on how they perceived their resultant identity of unemployed professional, this effected health. Participants whom were concerned of how they would be interpreted by society whilst out of work, felt levels of shame that caused maladaptive coping and poorer health. Those who managed such worries, showed less shame and greater health promoting strategies. When reviewing participants' interpretations through the Sense of Coherence formulation, all participants comprehended the practicalities and business needs for job cuts. However, those that stayed relatively healthy could separate comprehension of job loss from their overall identity. This minimised negative internalisation of loss, reduced anger towards employers and reduced overall distress whilst unemployed.
Conclusion: Although participants comprehended the business needs for redundancies, this did not mean they were immune to the psychological effects of job loss. Indeed, professionals who internalised job loss were at threat of health concerns such as depression or alcohol dependencies. For professionals, redundancy therefore had ramifications stemming from a deep-felt loss due to the perception of losing one's professional identity.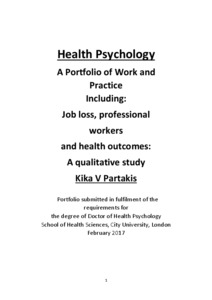 Preview
Text - Accepted Version


Download (2MB) | Preview
Export
Downloads
Downloads per month over past year
Altmetric

Altmetric
CORE (COnnecting REpositories)

CORE (COnnecting REpositories)
Actions (login required)

Actions (login required)