Public Sphere
Iosifidis, P.

ORCID: 0000-0002-2096-219X (2021). Public Sphere. In: Baker, M, Blaagaard, B. B., Jones, H. & Perez-Gonzalez, L. (Eds.), Routledge Encyclopedia of Citizen Media. (pp. 337-341). Abingdon, UK: Routledge.
Abstract
The concept of the public sphere is a central analytical tool that helps us to make sense of the relationship between the media and democracy (civic engagement). Political theorist Habermas explained that in the late eighteenth century a new political class (the bourgeoisie) came to the fore in Britain in particular and formed a public body which, in sharp contrast to the old authorities, notably the state and the church, provided the conditions for reason-based, public opinion. The creation of a network of institutions by the bourgeoisie within the civil society and, more specifically, the launch of a number of newspapers provided the means through which private thoughts could become public. However, Habermas pointed out that this space for rational and universalistic politics created by the capitalist market was historically damaged by both the extension of the state and the evolution of monopoly capitalism. The role of the media was central to the replacement of the ideal speech situation by conditions of 'distorted communication'. Whereas the independent press at the turn of the nineteenth century had led to the formation of rational public debate and public decision-making on political and judicial matters, it later functioned as a manipulative agency controlling public opinion.
Although often dubbed idealistic and criticised on its 'rationality' principle, Habermas' theory offered a good starting point for understanding the media's role in public communication. But in today's global multi-cultural society it is argued that the public sphere should take a universalising angle and consider the cultural 'difference'. Therefore, the debates surrounding the idea of the public sphere have taken a renewed interest with the emergence of the Internet and other new online and citizen media which can provide new communication spaces where debate can be conducted. This entry discusses the role of the traditional public sphere in terms of citizens' political actions and engages critically with up to date scholarship in the field by debating whether new electronic media act as a public sphere where critical discourse can emerge and influence political action. To illustrate this, the entry provides concrete examples and makes reference to a number of cases, including the way the Brexiteers and Trump used citizen media, and Twitter in particular, to win the 2016 UK Referendum and the 2016 US Presidential election, respectively.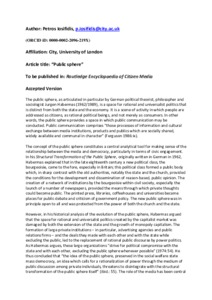 Preview
Text - Accepted Version


Download (178kB) | Preview
Export
Downloads
Downloads per month over past year
Altmetric

Altmetric
CORE (COnnecting REpositories)

CORE (COnnecting REpositories)
Actions (login required)

Actions (login required)