Halving Food Loss and Waste in the EU by 2030: the major steps needed to accelerate progress
Reynolds, C.

ORCID: 0000-0002-1073-7394, Boulding, A., Pollock, H. , Sweet, N., Ruiz, J. & Draeger de Teran, T. (2020). Halving Food Loss and Waste in the EU by 2030: the major steps needed to accelerate progress. Berlin: WWF-WRAP.
Abstract
Unsustainable production and consumption of food constitutes one of the biggest environmental threats to our planet. Eliminating food loss and waste to the largest extent possible – at all stages from producer to final consumer – stands out as an urgent and indispensable step towards more sustainable food systems. The EU's recent adoption of the Circular Economy Package, including the revision of its Waste Framework Directive in 2018 and a new Delegated Act on the measurement of food waste in 2019, opens a limited time period where Member States will have to integrate these policies into their national law. In 2020, the first EU-wide national measurement of food waste will be undertaken. This will be reported back to the EU mid2022 and will provide comparative baseline measures for all Member States. The publication of this baseline data in 2023 will provide the opportunity to consider the feasibility of establishing Union-wide food waste reduction targets to be met by 2025 and 2030. For this reason, 2020–2023 will provide crucial moments of opportunity for EU Member States' food waste policy and EU-wide food waste reduction. Indeed, changes in the regulatory framework were necessary but need to be accompanied by further action to effectively accelerate food waste reductions. Through a rapid review of food waste literature and interviews with Member State representatives, this report identifies and provides case studies of the food waste reduction actions that have the largest evidence bases and largest potential for accelerating progress towards SDG target 12.3 (halving food waste by 2030 and reducing food losses), but which have been insufficiently applied in the EU until now: Food waste measurement; Valorisation; and Voluntary Agreements. Some of these actions are already partly developed in the EU (valorisation), while others have only recently been piloted across several Member States (voluntary agreements) or still need to be deployed coherently (food waste measurement). This report also highlights other interventions that show less evidence of their potential to date, but which are expected to hold high potential for effective food waste reduction: Changes to the Common Agricultural Policy; Stronger Regulation; and National Food Waste Strategies. Due to the interconnected nature of food waste, and of the EU and Member State policies, all food waste reduction areas proposed are interlinked and related. Together they offer a suite of actions that can be deployed over a range of time scales, from 12 months through to 5 years; and at a range of sizes, from individual companies or specific industry sectors, through to government-led deployment on a national scale. These actions will all benefit from close collaboration between the stakeholders, who can jointly deliver the urgently needed acceleration in food waste reduction.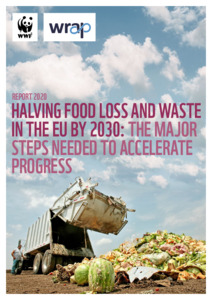 Preview
Text - Published Version


Download (4MB) | Preview
Export
Downloads
Downloads per month over past year
Altmetric

Altmetric
CORE (COnnecting REpositories)

CORE (COnnecting REpositories)
Actions (login required)

Actions (login required)