Establishing consensus on a definition of aphasia: an e-Delphi study of international aphasia researchers
Berg, K., Isaksen, J., Wallace, S. J. , Cruice, M.

ORCID: 0000-0001-7344-2262, Simmons-Mackie, N. & Worrall, L. (2020). Establishing consensus on a definition of aphasia: an e-Delphi study of international aphasia researchers. Aphasiology, doi: 10.1080/02687038.2020.1852003
Abstract
Background : Definitions reflect the current state of knowledge about a health condition. An agreed definition of aphasia is central to the progression of the science and clinical practice relevant to aphasia.
Aim : To establish consensus on a definition of aphasia.
Methods & Procedures : A three-round modified e-Delphi study was conducted with aphasia researchers who were members of the Collaboration of Aphasia Trialists (CATs). In round one, participants were provided with a draft definition developed by the Societal Impact and Reintegration Working Group of CATs. Participants were asked whether they agreed with the definition and were asked to comment on any aspects that they perceived to require amendment. Comments were collated and analysed using inductive content analysis. In round two, participants were presented with the collated and de-identified results of the first round and the participants were asked to vote "yes/no" on two contentious aspects of the definition. In round three, agreement on the revised definition was again sought using closed "yes/no" voting. Consensus was defined a priori as at least 70% agreement by 80% of all CATs members. CATs membership fluctuated across the study period and ranged between 131 and 141 members.
Outcomes & Results : The proposed definition was Aphasia is a communication disability due to an acquired impairment of language modalities caused by focal brain damage. Aphasia may affect participation and quality of life of the person with aphasia as well as their family and friends. Aphasia masks competence and affects functioning across relationships, life roles and activities, thereby influencing social inclusion, social connectedness, access to information and services, equal rights, and wellbeing in family, community and culture.
Two main categories of proposed amendments to the definition were identified: (1) definition of aphasia as a communication disability versus a language impairment; and (2) definition of aphasia as being the result of a focal and/or diffuse lesion. After three rounds of surveys, consensus was unable to be achieved with an almost even split across participants on both amendment issues.
Conclusion : Further debate about the use of the term communication disability to describe aphasia and whether aphasia is a result of focal or diffuse lesions is required before consensus is again attempted.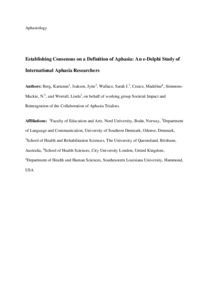 Preview
Text - Accepted Version


Download (523kB) | Preview
Export
Downloads
Downloads per month over past year
Altmetric

Altmetric
CORE (COnnecting REpositories)

CORE (COnnecting REpositories)
Actions (login required)

Actions (login required)