A comprehensive assessment of reading-related skills in typically developing 4;0- to 7;0-year-old Saudi Arabian children
Najmaldeen, G. (2020). A comprehensive assessment of reading-related skills in typically developing 4;0- to 7;0-year-old Saudi Arabian children. (Unpublished Doctoral thesis, City, University of London)
Abstract
This cross-sectional study involves Arabic-speaking children from Riyadh in Saudi Arabia. It aims to develop comprehensive Reading-Related Skills (RRS) using a battery of tests for the use of Arabic-speaking preschoolers in Saudi Arabia. The first study involved 384 participants as they began to learn to read at 4 years old and as they developed their skill up to 7 years old. The study investigated the extent to which children's performance in Phonological Awareness (PA), Letter Knowledge (LK) and Rapid Automatized Naming (RAN) are affected by gender, age, and socioeconomic status (SES), and also by the levels of exposure to tuition in Tajwid (Qur'anic recitation). The second study involved 60 participants to determine the predictiveness of the test battery in relation to teacher ratings of participants' reading ability.
The results from these studies confirm the validity and reliability of the test battery of test and support previous findings that PA develops from larger to smaller linguistic units. The effect of gender on RRS was found to be minimal whereas both PA and LK were found to be age sensitive and useful for discriminating between levels of ability, whilst RAN proved to be useful only for the oldest group.
The result also supports previous claims by researchers that both PA and LK play an important role in the development of reading in Arabic-speaking children and can be used as predictors of their reading ability. Similarly, the results of the RAN tasks support previous findings that the predictiveness of these tasks applies principally to older children. These points would need to be incorporated into any future RRS test. Although some socioeconomic factors were found to correlate with the RRS measured, SES did not appear to play the major role suggested in previous Western studies. Findings were inconclusive concerning the effect of levels of exposure to Tajwid tuition on RRS but indicate that this
area merited further investigation, particularly given the special emphasis placed on this in the Saudi Arabian system of education.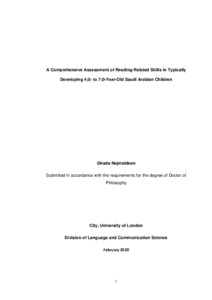 Preview
Text - Accepted Version


Download (5MB) | Preview
Export
Downloads
Downloads per month over past year
Altmetric

Altmetric
CORE (COnnecting REpositories)

CORE (COnnecting REpositories)
Actions (login required)

Actions (login required)