Un día en cuarentena (un cómic en respuesta a COVID-19)
de la Mora, F., Priego, E.

ORCID: 0000-0003-4418-369X & Scott, S. (2021). Un día en cuarentena (un cómic en respuesta a COVID-19) City Interaction Lab / Symbola Comics, London. doi: 10.25383/city.14497551
Abstract
Spanish translation of "A Day in Lockdown" is a COVID-19 Response four-page comic depicting a day in the life of a family with a child with a disability during the first UK Lockdown in 2020. "Un día en cuarentena" es la traducción al español de "A Day in Lockdown", un cómic de cuatro páginas de COVID-19 Response que describe un día en la vida de una familia con un niño con discapacidad durante el primer confinamiento (lockdown) del Reino Unido en 2020. Este cómic se desarrolló entre febrero y abril de 2021 en respuesta a la pandemia de COVID-19. El cómic fue co-diseñado con un formato de cómic impreso en mente, pero destinado a la distribución digital gratuita como PDF. Co-diseñado y editado por Francisco de la Mora, Dr. Ernesto Priego y Stuart Scott, con arte e historia de Francisco de la Mora, "Un día en cuarentena" es parte de una serie de cómics resultantes de la aplicación de métodos participativos de co-diseño narrativo autoetnográfico y producido por el City Interaction Lab, Center for Human-Computer Interaction Design, City, Universidad de Londres. Una motivación para estos cómics de respuesta COVID-19 fue la convocatoria para creativos de las Naciones Unidas publicada en de abril de 2020, que abordó en particular "Mensajes clave" como el "distanciamiento físico" y el "contagio de bondad" (Naciones Unidas 2020). Como cómic, "Un día en cuarentena" es idiosincrásico y subjetivo; se basa en la experiencia personal de una familia radicada en Londres durante el primer confinamiento o "lockdown" y no pretende representar las experiencias de todos ni hacer generalizaciones. Se siguieron los principios del cómic biográfico y documental y la autoficción, y se siguieron pautas éticas dentro del proceso de diseño participativo iterativo, que incluyó la evaluación por parte de lectores y la incorporación de sus comentarios a lo largo del ciclo de vida del proyecto.
Publication Type:
Internet Publication
Additional Information:
In the spirit of open access and open science, "A Day in Lockdown" has been licensed with a Creative Commons Attribution Non-Commercial license, allowing reusers to distribute, remix, adapt, and build upon the material in any medium or format for noncommercial purposes only, and only so long as attribution is given to the creators. En el espíritu del acceso abierto y la ciencia abierta, "Un día en cuarentena" se compare con una licencia de atribución no comercial de Creative Commons, lo que permite a los usuarios distribuir, mezclar, adaptar y desarrollar el material en cualquier medio o formato para fines no comerciales, siempre y cuando se de la atribución completa a los creadores y se vincule a este original.
Publisher Keywords:
COVID_19; COVID; coronavirus; comics; graphic medicine; disability; accessibility; social distancing; kindness; lockdown; quarantine; UK lockdown; interaction design
Subjects:
H Social Sciences > HM Sociology
H Social Sciences > HN Social history and conditions. Social problems. Social reform
N Fine Arts > NC Drawing Design Illustration
Q Science > QR Microbiology > QR355 Virology
R Medicine > RA Public aspects of medicine > RA0421 Public health. Hygiene. Preventive Medicine
Departments:
School of Science & Technology > Computer Science > Human Computer Interaction Design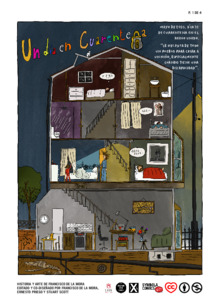 Preview
Text - Published Version
Available under License Creative Commons Attribution Non-commercial.
Download (5MB) | Preview
Export
Downloads
Downloads per month over past year
Altmetric

Altmetric
CORE (COnnecting REpositories)

CORE (COnnecting REpositories)
Actions (login required)

Actions (login required)