Sender vs Recipient Orientated Information Systems Revisited
MacFarlane, A.

ORCID: 0000-0002-8057-0737, Missaoui, S., Makri, S. & Gutierrez Lopez, M. (2022). Sender vs Recipient Orientated Information Systems Revisited. Journal of Documentation, 78(2), pp. 485-509. doi: 10.1108/JD-10-2020-0177
Abstract
Purpose
Belkin and Robertson (1976a) reflected on the ethical implications of theoretical research in information science, and warned that there was potential for abuse of knowledge gained by undertaking such research and applying it to information systems. In particular, they identified the domains of advertising and political propaganda that posed particular problems. The purpose of this literature review is to revisit these ideas in the light of recent events in global information systems that demonstrate their fears were justified.
Design/methodology/approach
We revisit the theory in information science that Belkin and Robertson used to build their argument, together with the discussion on ethics that resulted from this work in the late 1970's and early 1980's. We then review recent literature in the field of information systems, specifically information retrieval, social media and recommendation systems that highlight the problems identified by Belkin and Robertson.
Findings
Information science theories have been used in conjunction with empirical evidence gathered from user interactions that have been detrimental to both individuals and society. It is argued in the paper that the information science and systems communities should find ways to return control to the user where at all possible, and ways to achieve this are considered.
Research limitations/implications
The ethical issues identified require a multidisciplinary approach with research in information science, computer science, information systems, business, sociology, psychology, journalism, government and politicsetc. required. This is to large a scope to deal with in a literature review, and we focus only on the design and implementation of information systems(Zimmer, 2008a)through an information science and information systems perspective.
Practical Implications
We argue that information systems such as search technologies, social media applications and recommendation systems should be designed with the recipient of information in mind(Paisley and Parker, 1965), not the sender of that information.
Social Implications
Information systems designed ethically and with users in mind will go some way to addressing the ill effects typified by the problems for individual and society evident in global information systems.
Originality
We synthesize the evidence from the literature to provide potential technological solutions to the ethical issues identified, with a set of recommendations to information systems designers and implementers.
Publication Type:
Article
Additional Information:
© 2022. This AAM is provided for your own personal use only. It may not be used for resale, reprinting, systematic distribution, emailing, or for any other commercial purpose without the permission of the publisher. This article will be published in Journal of Documentation, Emerald. DOI: 10.1108/JD-10-2020-0177.
Publisher Keywords:
Information science theory, Information systems, ethics, privacy, security, user interaction
Subjects:
B Philosophy. Psychology. Religion > BJ Ethics
Z Bibliography. Library Science. Information Resources > Z665 Library Science. Information Science
Departments:
School of Science & Technology > Computer Science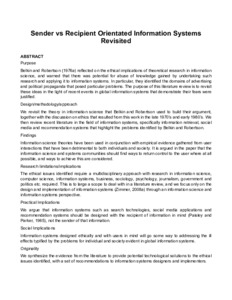 Preview
Text - Accepted Version


Download (346kB) | Preview
Export
Downloads
Downloads per month over past year
Altmetric

Altmetric
CORE (COnnecting REpositories)

CORE (COnnecting REpositories)
Actions (login required)

Actions (login required)