Use of standardised patients in optometry training
Shah, R.

ORCID: 0000-0002-6134-0936, Ctori, I.

ORCID: 0000-0003-1523-4996, Edgar, D. F

ORCID: 0000-0001-9004-264X & Parker, P. M.

ORCID: 0000-0002-0920-7804 (2021). Use of standardised patients in optometry training. Clinical and Experimental Optometry, 104(8), pp. 848-853. doi: 10.1080/08164622.2021.1896332
Abstract
Clinical relevance: The ability to articulate clinical findings to patients through effective communication is a key skill in all health-care professions.
Background: Unannounced standardised patients (SPs) are successful in measuring quality of clinical care provided by qualified optometrists but have not been used in optometry training. Final-year undergraduate optometry students examine members of the public during primary care clinics observed by visiting clinical tutors (VCTs) who provide individualised feedback, highlighting areas for improvement. This pilot study investigates whether unannounced SPs can be used as an additional resource providing enhanced feedback on communication skills in undergraduate optometry education.
Methods: Two SPs received intensive training on reporting on students eye examinations and communication skills through completion of pre-designed checklists for each patient encounter. Each SP presented 16 times as an unannounced patient for routine eye examinations. SPs' comments on communication skills of 32 students during 32 examinations was compared to feedback from 10 VCTs. SPs' performance was monitored to ensure consistency. Evaluation of differences in quality and quantity of feedback provided by SPs and VCTs was performed using thematic analysis and chi-squared tests. Student feedback on the use of SPs was obtained on completion of the study.
Results: Qualitative thematic analysis revealed six overarching themes emerging from 64 sets of feedback. SPs gave significantly more feedback, both positive comments and comments with recommendations, than VCTs for the (a) total number of comments for each theme (p = 0.0000) and (b) detail and depth of these comments. Students reported that SPs commented on aspects of communication (e.g., establishing rapport and body language) not noted by VCTs.
Conclusions: Unannounced SPs can provide enhanced feedback on communication skills to final-year undergraduate optometry students. Students greatly valued VCTs feedback; however, they felt SPs commented on elements of communication not noted by VCTs.
Publication Type:
Article
Additional Information:
© 2021 The Author(s). Published by Informa UK Limited, trading as Taylor & Francis Group. This is an Open Access article distributed under the terms of the Creative Commons Attribution-NonCommercial-NoDerivatives License (http://creativecommons.org/licenses/by-nc-nd/4.0/), which permits non-commercial re-use, distribution, and reproduction in any medium, provided the original work is properly cited, and is not altered, transformed, or built upon in any way.
Publisher Keywords:
Communication, feedback, optometry education, simulation, standardised patients, actor
Subjects:
L Education
R Medicine > RE Ophthalmology
Departments:
School of Health & Psychological Sciences > Optometry & Visual Sciences
Professional Services > Learning, Enhancement and Development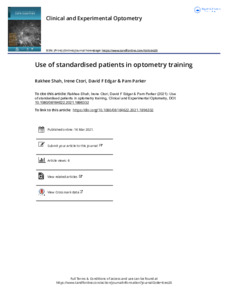 Preview
Text - Published Version
Available under License Creative Commons Attribution Non-commercial No Derivatives.
Download (665kB) | Preview
Export
Downloads
Downloads per month over past year
Altmetric

Altmetric
CORE (COnnecting REpositories)

CORE (COnnecting REpositories)
Actions (login required)

Actions (login required)