Professionals' responses to the introduction of AI innovations in radiology and their implications for future adoption: a qualitative study
Chen, Y.

ORCID: 0000-0003-2549-8880, Stavropoulou, C.

ORCID: 0000-0003-4307-1848, Narasinkan, R. , Baker, A. & Scarbrough, H.

ORCID: 0000-0002-3820-8339 (2021). Professionals' responses to the introduction of AI innovations in radiology and their implications for future adoption: a qualitative study. BMC Health Services Research, 21(1), 813. doi: 10.1186/s12913-021-06861-y
Abstract
BACKGROUND: Artificial Intelligence (AI) innovations in radiology offer a potential solution to the increasing demand for imaging tests and the ongoing workforce crisis. Crucial to their adoption is the involvement of different professional groups, namely radiologists and radiographers, who work interdependently but whose perceptions and responses towards AI may differ. We aim to explore the knowledge, awareness and attitudes towards AI amongst professional groups in radiology, and to analyse the implications for the future adoption of these technologies into practice.
METHODS: We conducted 18 semi-structured interviews with 12 radiologists and 6 radiographers from four breast units in National Health Services (NHS) organisations and one focus group with 8 radiographers from a fifth NHS breast unit, between 2018 and 2020.
RESULTS: We found that radiographers and radiologists vary with respect to their awareness and knowledge around AI. Through their professional networks, conference attendance, and contacts with industry developers, radiologists receive more information and acquire more knowledge of the potential applications of AI. Radiographers instead rely more on localized personal networks for information. Our results also show that although both groups believe AI innovations offer a potential solution to workforce shortages, they differ significantly regarding the impact they believe it will have on their professional roles. Radiologists believe AI has the potential to take on more repetitive tasks and allow them to focus on more interesting and challenging work. They are less concerned that AI technology might constrain their professional role and autonomy. Radiographers showed greater concern about the potential impact that AI technology could have on their roles and skills development. They were less confident of their ability to respond positively to the potential risks and opportunities posed by AI technology.
CONCLUSIONS: In summary, our findings suggest that professional responses to AI are linked to existing work roles, but are also mediated by differences in knowledge and attitudes attributable to inter-professional differences in status and identity. These findings question broad-brush assertions about the future deskilling impact of AI which neglect the need for AI innovations in healthcare to be integrated into existing work processes subject to high levels of professional autonomy.
Publication Type:
Article
Additional Information:
This article is licensed under a Creative Commons Attribution 4.0 International License, which permits use, sharing, adaptation, distribution and reproduction in any medium or format, as long as you give appropriate credit to the original author(s) and the source, provide a link to the Creative Commons licence, and indicate if changes were made. The images or other third party material in this article are included in the article's Creative Commons licence, unless indicated otherwise in a credit line to the material. If material is not included in the article's Creative Commons licence and your intended use is not permitted by statutory regulation or exceeds the permitted use, you will need to obtain permission directly from the copyright holder. To view a copy of this licence, visit http://creativecommons.org/licenses/by/4.0/. The Creative Commons Public Domain Dedication waiver (http://creativecommons.org/publicdomain/zero/1.0/) applies to the data made available in this article, unless otherwise stated in a credit line to the data.
Publisher Keywords:
AI innovation, Professional, Radiologist, Radiographer, Perception, Adoption, NHS
Subjects:
Q Science > QA Mathematics > QA75 Electronic computers. Computer science
R Medicine > RC Internal medicine
Departments:
Bayes Business School > Management
School of Health & Psychological Sciences > Healthcare Services Research & Management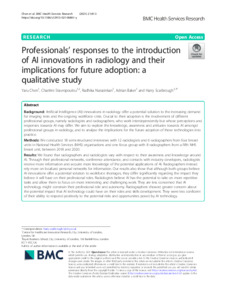 Preview
Text - Published Version
Available under License Creative Commons: Attribution International Public License 4.0.
Download (548kB) | Preview
Export
Downloads
Downloads per month over past year
Altmetric

Altmetric
CORE (COnnecting REpositories)

CORE (COnnecting REpositories)
Actions (login required)

Actions (login required)