Citizen science in supporting food policy making
Reynolds, C.

ORCID: 0000-0002-1073-7394 (2022). Citizen science in supporting food policy making. Paper presented at the Webinar: Sustainable and healthy living environments: How to mobilize citizens' knowledge?, 25 May 2022, Online.
Abstract
Resolving pressing sustainability problems, such as climate change or loss of biodiversity, requires firm evidence-base. The generation of evidence typically prioritizes expert knowledge although the decisions aiming at sustainability often influence the lives of citizens or demand committed action from them. It is widely recognized that professional knowledge alone is not sufficient in tackling the complex societal problems. Citizens have knowledge about their living environments that could inform better policies. But how to mobilize people's own knowledge about their local environments into decision making? Growing number of citizen science initiatives demonstrate how large crowds can be enrolled in collecting data about environmental changes, often with the help of digital tools. They enable novel forms of interaction between citizens, science and policy making. The long tradition and debates on participatory research in social sciences point out, however, the need to reflect on the quality and outcomes of these interactions. This webinar focuses on the experiences and methodologies developed in response to the increasing hunger for data about sustainability and citizens' narrow role in expert-led decision making. How do new ways of knowing and doing research, including digital interfaces, networks and interactions, change the relations between citizens, science and policy making? Does participation in the production of knowledge lead to shared understanding? How to do citizen science in a way that responds to the concerns of citizens? What kind of in/equalities or hierarchies remain or result from the expanding and intensifying use of participatory approaches and how these could be addressed? The webinar brings together experiences and observations from methodologies that aim to expand the role of the citizen in data-driven environmental decision making. The three presentations outline the potential and value of co-design and citizen science in public decision making aiming at sustainability, draw from experiences in integrating citizen science in food policy in the UK and discuss methodologies for strengthening citizens' voice for health equity. The keynote lectures will be given by Re-imagining the science-policy interface: policy relevance and policy impact of citizen science Dr. Uta Wehn, IHE Delft Institute for Water Education Commentator: Development Manager Dr. Sanna-Riikka Saarela, Finnish Environment Institute Citizen science in supporting food policy-making Dr. Christian Reynolds, University of London Commentator: Senior Specialist, Anna Salminen, The Finnish Ministry of Agriculture and Forestry Mobilizing Community-engaged Citizen Science to Promote Healthy and Sustainable Environments: The Our Voice Citizen Science Research Initiative Prof. Abby King, University of Stanford Commentator: Dr. Minna Kaljonen, Finnish Environment Institute Short bio of the keynote speakers Dr. Uta Wehn Uta Wehn is Associate Professor of Water Innovation Studies, head of the Knowledge & Innovation Studies Development group at IHE Delft and Adlerbert Visiting Professor of Marine Citizen Science for Sustainable Development at the University of Gothenburg. She is a social scientist from the field of science, technology & innovation studies, with a background in ICTs, drawing on more than 20 years of combined industrial, research and international development experience. Her action research at the intersection of data and knowledge co-creation, digital innovation, and water and environment contributes insights into how to harness citizen science for science, participatory water governance and sustainable development. By setting up international Communities of Practice, she has helped to consolidate knowledge dispersed among citizen science practitioners and she has fostered innovation in citizen science via incubation. She has participated in intergovernmental processes and initiatives, incl. the OECD Water Governance Initiative, the Group on Earth Observation (GEO) and the recent UNESCO Recommendation on Open Science. Dr. Christian Reynolds Christian Reynolds is Senior Lecturer at the Centre for Food Policy, City University, London. Christian is recognised as a global expert on food loss and waste and sustainable diets. He has worked on these issues in Australia, New Zealand, Indonesia, the UK, US, and Europe. Christian also researches sustainable cookery; food history; and the political power of food in international relations. Prof. Abby King Abby King is an internationally respected scholar and professor at the Stanford University Medical School. Recipient of the Outstanding Scientific Contributions in Health Psychology Award from the American Psychological Association, her research focuses on the development, evaluation, and translation of public health interventions to reduce disease and promote individual and community well-being. She uses state-of-the-art communication technologies and community-based citizen science approaches to facilitate sustainable environments and address health disparities among disadvantaged populations worldwide. Among the organizations honoring her work are the Center for Active Design, the Society of Behavioral Medicine, the International Society of Behavioral Nutrition and Physical Activity, and Stanford University. The webinar is arranged by the project Public Science for Sustainable Living Environments (PUBS).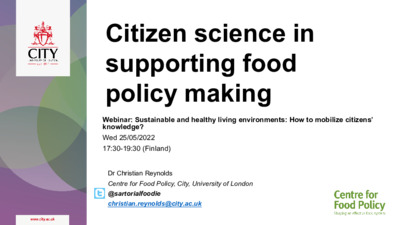 Preview
Text - Presentation


Download (4MB) | Preview
Export
Downloads
Downloads per month over past year
Altmetric

Altmetric
CORE (COnnecting REpositories)

CORE (COnnecting REpositories)
Actions (login required)

Actions (login required)