Object Tracking Based on Satellite Videos: A Literature Review
Zhang, Z., Wang, C., Song, J.

ORCID: 0000-0003-0623-0395 & Xu, Y. (2022). Object Tracking Based on Satellite Videos: A Literature Review. Remote Sensing, 14(15), 3674. doi: 10.3390/rs14153674
Abstract
Video satellites have recently become an attractive method of Earth observation, providing consecutive images of the Earth's surface for continuous monitoring of specific events. The development of on-board optical and communication systems has enabled the various applications of satellite image sequences. However, satellite video-based target tracking is a challenging research topic in remote sensing due to its relatively low spatial and temporal resolution. Thus, this survey systematically investigates current satellite video-based tracking approaches and benchmark datasets, focusing on five typical tracking applications: traffic target tracking, ship tracking, typhoon tracking, fire tracking, and ice motion tracking. The essential aspects of each tracking target are summarized, such as the tracking architecture, the fundamental characteristics, primary motivations, and contributions. Furthermore, popular visual tracking benchmarks and their respective properties are discussed. Finally, a revised multi-level dataset based on WPAFB videos is generated and quantitatively evaluated for future development in the satellite video-based tracking area. In addition, 54.3% of the tracklets with lower Difficulty Score (DS) are selected and renamed as the Easy group, while 27.2% and 18.5% of the tracklets are grouped into the Medium-DS group and the Hard-DS group, respectively.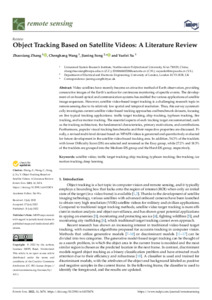 Preview
Text - Published Version
Available under License Creative Commons Attribution.
Download (2MB) | Preview
Export
Downloads
Downloads per month over past year