Dynamic interlinkage between the Republic of Korea and the International Telecommunication Union through evolving telecommunications issue-structures
Kim, E. J. (1990). Dynamic interlinkage between the Republic of Korea and the International Telecommunication Union through evolving telecommunications issue-structures. (Unpublished Doctoral thesis, City, University of London)
Abstract
This thesis examines dynamic interlinkages between R.O. Korea and the ITU, through looking at Korea's actions within/concerning the ITU - both its organizational system and functions - in what are now complex global telecommunications environments. It attempts to investigate the possibility of the ITU as an alternative to bi-lateral or other multi-lateral arrangements, where R.O. Korea faces vulnerability or insufficient solutions.
The theoretical framework is mainly based on neo-realism which emphasises the significance of 'internal-external interactions' to bridge the gap between the internal and external structures in a given 'issue-area' (Ch. II). On the basis of these theoretical arguments and empirical field surveys (both observation and interviews), this research approaches the interlinkages in two-ways: (a) a 'structure-centred approach' involving analysis of both R.O. Korea's telecommunications infrastructure and the ITU's organizational system, where state and non-state members distribute their capabilities; (b) an 'issue-structural approach' integrating internal and external structures focussing on ITU's four major functions - as issue-areas.
The "structural approach" (Chs. III & IV) demonstrates alterations in R.O. Korea's behaviour within the ITU over time. Influenced by internal and external variables, its behaviour has changed starting from the mere use of the ITU as a political arena for 'legitimisation' of its independence in the international community in the 1950s, to the increase of contributions and numbers of delegation composed of c o r p o r a tis t infra-entities in the 1980s. Further, its policy towards the ITU such as 'active participation' won a diplomatic prize by achieving Administrative Council membership in 1989. Overall, the ITU as a UR family system has offered R.O. Korea both an 'alternative' to the UR in which it has not yet gained membership and a 'victory' over competition with its counterpart - N. Korea.
Whereas the structural approach demonstrated R.O. Korea's actions intended to achieve rather 'political' goals, the "issue-structural approach" (Chs. V to VIII) demonstrates its actions attempted to gain access to 'functional' goals such as information for telecommunications technologies, regulations, and policies. Being a 'middle power' Member ranking the 10th in the world telecommunications market economy, R.O. Korea has not involved itself in structural conflicts (e.g., North and South) on each issue, but has attempted to narrow the widening gap. However, it has not yet demonstrated use of the ITU in order to 'solve' its vulnerability derived from bilateral agreements. Nor did it use power-resources from the ITU to affect results in another multilateral organization such as GATT, and vice versa. Thus, despite the improvement of Korea's utilization of the ITU, its behaviour still seems to be less efficient than it might be.

The thesis concludes (Ch. IX) that, in the changing internal and external telecommunications environments, R.O. Korea needs to improve its overall management for unilateral, bilateral, and multilateral arrangements such as the ITU. The methods and reasons for its interlinkages in both structural and issue-structural analyses suggest several lessons which could be learned from past mistakes or experiences in promoting more efficient management of its relations with the ITU.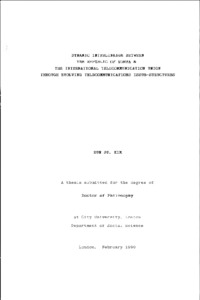 Preview
Text - Accepted Version


Download (55MB) | Preview
Export
Downloads
Downloads per month over past year
Altmetric

Altmetric
CORE (COnnecting REpositories)

CORE (COnnecting REpositories)
Actions (login required)

Actions (login required)