A critical review of diet-related surveys in England, 1970-2018
Campbell, M., Smith, D., Baird, J. , Vogel, C. A.

ORCID: 0000-0002-3897-3786 & Moon, E. G. (2020). A critical review of diet-related surveys in England, 1970-2018. Archives of Public Health, 78, 66. doi: 10.1186/s13690-020-00447-6
Abstract
BACKGROUND: Many diet-related surveys have been conducted in England over the past four to five decades. Yet, diet-related ill-health is estimated to cost the NHS £5.8 billion annually. There has been no recent assessment of the diet-related surveys currently available in England. This paper aims to fill this gap in the literature by providing researchers, especially those interested in conducting secondary (quantitative) research on diet, with a detailed overview of the major repeated cross-sectional and longitudinal surveys conducted in England over the last 48 years (1970-2018). METHOD: A three-stage review process was used to identify and assess surveys and synthesise the information necessary for achieving the paper's aim. Surveys were identified using the UK Data Service, Cohort and Longitudinal Studies Enhancement Resources (CLOSER), the Medical Research Council (MRC) Cohort Directory and the Consumer Data Research Centre (CDRC) online data repositories/directories. Surveys were summarised to include a brief background, the survey design and methodology used, variables captured, the target population, level of geography covered, the type of dietary assessment method(s) used, primary data users, data accessibility, availability and costs, as well as key survey features and considerations. RESULTS: The key considerations identified across the various surveys following the review include: the overall survey design and the different dietary assessment method(s) used in each survey; methodological changes and general inconsistencies in the type and quantity of diet-related questions posed across and within surveys over time; and differences in the level of geography and target groups captured. CONCLUSION: It is highly unlikely that any survey dataset will meet all the needs of researchers. Nevertheless, researchers are encouraged to make good use of the secondary data currently available, in order to conduct the research necessary for the creation of more evidence-based diet-related policies and interventions in England. The review process used in this paper is one that can be easily replicated and one which future studies can use to update and expand upon to assist researchers in identifying the survey(s) most aligned to their research questions.
| | |
| --- | --- |
| Publication Type: | Article |
| Additional Information: | This article is licensed under a Creative Commons Attribution 4.0 International License, which permits use, sharing, adaptation, distribution and reproduction in any medium or format, as long as you give appropriate credit to the original author(s) and the source, provide a link to the Creative Commons licence, and indicate if changes were made. The images or other third party material in this article are included in the article's Creative Commons licence, unless indicated otherwise in a credit line to the material. If material is not included in the article's Creative Commons licence and your intended use is not permitted by statutory regulation or exceeds the permitted use, you will need to obtain permission directly from the copyright holder. To view a copy of this licence, visit http://creativecommons.org/licenses/by/4.0/. The Creative Commons Public Domain Dedication waiver (http://creativecommons.org/publicdomain/zero/1.0/) applies to the data made available in this article, unless otherwise stated in a credit line to the data. |
| Publisher Keywords: | Diet and nutrition, Researchers, Secondary data, Repeated cross-sectional and longitudinal surveys, Key features, Considerations, Diet-related surveys, Dietary assessment methods, England |
| Subjects: | R Medicine > RA Public aspects of medicine > RA0421 Public health. Hygiene. Preventive Medicine |
| Departments: | School of Health & Psychological Sciences > Healthcare Services Research & Management |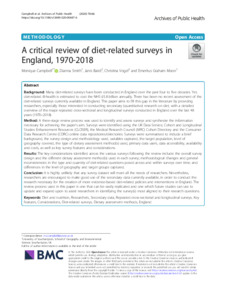 Preview
Text - Published Version
Available under License Creative Commons Attribution.
Download (865kB) | Preview
Export
Downloads
Downloads per month over past year