Growing polarization around climate change on social media
Falkenberg, M., Galeazzi, A., Torricelli, M. , Di Marco, N., Larosa, F., Sas, M., Mekacher, A., Pearce, W., Zollo, F., Quattrociocchi, W. & Baronchelli, A.

ORCID: 0000-0002-0255-0829 (2022). Growing polarization around climate change on social media. Nature Climate Change, doi: 10.1038/s41558-022-01527-x
Abstract
Climate change and political polarization are two of the twenty-first century's critical socio-political issues. Here we investigate their intersection by studying the discussion around the United Nations Conference of the Parties on Climate Change (COP) using Twitter data from 2014 to 2021. First, we reveal a large increase in ideological polarization during COP26, following low polarization between COP20 and COP25. Second, we show that this increase is driven by growing right-wing activity, a fourfold increase since COP21 relative to pro-climate groups. Finally, we identify a broad range of 'climate contrarian' views during COP26, emphasizing the theme of political hypocrisy as a topic of cross-ideological appeal; contrarian views and accusations of hypocrisy have become key themes in the Twitter climate discussion since 2019. With future climate action reliant on negotiations at COP27 and beyond, our results highlight the importance of monitoring polarization and its impacts in the public climate discourse.
Publication Type:
Article
Additional Information:
This article is licensed under a Creative Commons Attribution 4.0 International License, which permits use, sharing, adaptation, distribution and reproduction in any medium or format, as long as you give appropriate credit to the original author(s) and the source, provide a link to the Creative Commons license, and indicate if changes were made. The images or other third party material in this article are included in the article's Creative Commons license, unless indicated otherwise in a credit line to the material. If material is not included in the article's Creative Commons license and your intended use is not permitted by statutory regulation or exceeds the permitted use, you will need to obtain permission directly from the copyright holder. To view a copy of this license, visit http://creativecommons.org/licenses/by/4.0/.
Publisher Keywords:
Climate change, Communication, Interdisciplinary studies, Mathematics and computing
Subjects:
G Geography. Anthropology. Recreation > GE Environmental Sciences
Q Science > QA Mathematics
Departments:
School of Science & Technology > Mathematics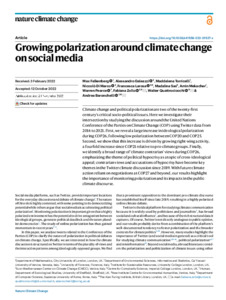 Preview
Text - Published Version
Available under License Creative Commons Attribution.
Download (4MB) | Preview
Export
Downloads
Downloads per month over past year
Altmetric

Altmetric
CORE (COnnecting REpositories)

CORE (COnnecting REpositories)
Actions (login required)

Actions (login required)