Parent, child, and environmental predictors of vegetable consumption in Italian, Polish, and British preschoolers
Masento, N. A., Dulay, K. M.

ORCID: 0000-0001-8827-9613, Harvey, K. , Bulgarelli, D., Caputi, M., Cerrato, G., Molina, P., Wojtkowska, K., Pruszczak, D., Barlinska, J., Messer, D. & Houston-Price, C. (2022). Parent, child, and environmental predictors of vegetable consumption in Italian, Polish, and British preschoolers. Frontiers in Nutrition, 9, 958245. doi: 10.3389/fnut.2022.958245
Abstract
This study compared the vegetable intake of preschool children from three European countries [Italy, Poland, and the United Kingdom (UK)] and explored the parent, child, and environmental factors that predicted intake in each country. A total of 408 parents of preschoolers (Italy: N = 61, Poland: N = 124, and UK: N = 225; child mean age = 32.2 months, SD = 9.47) completed an online survey comprising a set of standardised questionnaires. For all three countries, the questionnaires included measures of children's vegetable intake (VegFFQ), child eating behaviour (CEBQ-FF), parents' mealtime goals (FMGs), and sociodemographic questions about family background and environment. In the UK and Italy, additional questionnaires were used to assess child temperament (EAS-T) and parents' feeding practices (CFPQ). The results showed that the number of child-sized portions of vegetables consumed per day varied significantly across countries; Polish children consumed the most (∼3 portions) and Italian children the least (∼1.5 portions). Between-country differences were seen in parents' goals for family mealtimes; compared to Italian parents, Polish and UK parents were more motivated to minimise mealtime stress, increase family involvement in meal preparation, and share the same foods with family members. British and Italian parents also adopted different feeding practices; parents in the UK reported more use of healthy modelling behaviours and more use of foods to support their child's emotion regulation. In terms of child factors, Italian children were reported to be more emotional and more sociable than British children. Analyses of the relationships between the parent, child, and environmental factors and children's vegetable intake revealed both similarities and differences between countries. Negative predictors of vegetable intake included child food fussiness in the UK and Poland, child temperament (especially, shyness) in Italy, and the use of food as a reward and child emotionality in the UK. Positive predictors included the parental mealtime goal of 'family involvement' in the UK. These results highlight differences in the extent to which European preschoolers achieve recommended levels of vegetable intake, and in the factors that influence whether they do. The results suggest a need to develop healthy eating interventions that are adopted to meet the specific needs of the countries in which they are implemented.
Publication Type:
Article
Additional Information:
Copyright © 2022 Masento, Dulay, Harvey, Bulgarelli, Caputi, Cerrato, Molina, Wojtkowska, Pruszczak, Barlińska, Messer and Houston-Price. This is an open-access article distributed under the terms of the Creative Commons Attribution License (CC BY). The use, distribution or reproduction in other forums is permitted, provided the original author(s) and the copyright owner(s) are credited and that the original publication in this journal is cited, in accordance with accepted academic practice. No use, distribution or reproduction is permitted which does not comply with these terms.
Publisher Keywords:
vegetable intake, cross-cultural, family environment, eating behaviour, parenting style, child temperament
Subjects:
B Philosophy. Psychology. Religion > BF Psychology
R Medicine > RA Public aspects of medicine > RA0421 Public health. Hygiene. Preventive Medicine
Departments:
School of Health & Psychological Sciences > Psychology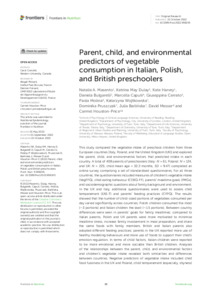 Preview
Text - Published Version
Available under License Creative Commons Attribution.
Download (478kB) | Preview
Export
Downloads
Downloads per month over past year