The Engage with Developmental Language Disorder (E-DLD) project: Cohort profile
St Clair, M. C., Horsham, J., Lloyd-Esenkaya, V. , Jackson, E., Gibson, J., Leitão, S. & Botting, N.

ORCID: 0000-0003-1082-9501 (2022). The Engage with Developmental Language Disorder (E-DLD) project: Cohort profile. International Journal of Language & Communication Disorders, doi: 10.1111/1460-6984.12835
Abstract
BACKGROUND: Public awareness of Developmental Language Disorder (DLD) is lower than other neurodevelopmental disorders, despite its high prevalence of 7.6%. This lower awareness means recruitment for DLD research studies is difficult. DLD is both underfunded and under-researched, resulting in relatively limited research investigating individuals with DLD. Engage with Developmental Language Disorder (E-DLD) is a response to these considerations. E-DLD is the first international participant database of those affected by DLD. Parents of children with DLD under 16 and young people and adults over 16 from anywhere in the world can sign up to be a part of the E-DLD.
AIMS: This paper aims to describe the families of children with DLD and adults with DLD in the database thus far.
METHODS & PROCEDURES: E-DLD members sign up via our website, reporting demographic characteristics as part of this procedure. We request all E-DLD members subsequently fill in a yearly survey. The content of the yearly survey changes dependent on the age of the child, while the yearly survey for adults remains consistent. We measure a wide range of domains, such as speech and language therapy (SLT) support, school support, socialisation skills, and early developmental milestones for our youngest members, and health care support and mental well-being measurements for our adults. We also collect parent and self-reported reflections on strengths and challenges for the person with DLD using open-ended questions and the Strengths and Difficulties Questionnaire. OUTCOMES & RESULTS: The database currently consists of 196 parents of children with DLD and 20 individuals over the age of 16 with DLD or suspected DLD across a range of socioeconomic status (SES) backgrounds. Our initial results confirm that E-DLD members meet the linguistic profile of DLD in relation to self- or parent-rated language difficulties. Both children and adults show increased rates of psychosocial difficulties compared to established norms, consistent with past research on clinical samples of people with DLD.
CONCLUSIONS & IMPLICATIONS: The findings indicate that a participant database for DLD research is feasible and useful. The rates of emotional, behavioural and sleep difficulties among the child probands are higher than reported rates amongst typically developing children. Initial data indicate that adults with DLD have poorer well-being than their peers. The E-DLD is a useful collection of data on those affected by DLD and is a promising method for connecting people with DLD with academic researchers.
WHAT THIS PAPER ADDS: What is already known on this subject Developmental Language Disorder (DLD) is characterised by expressive and/or receptive language difficulties in the absence of another biomedical condition that could explain these difficulties. It is critically under-researched and underfunded. As such, there is a lack of public awareness and difficulty recruiting sufficient sample sizes for DLD research studies. What this paper adds to existing knowledge Engage with Developmental Language Disorder (E-DLD) is the first international participant database of individuals with DLD. This paper provides a preliminary report on the profile of linguistic and psychosocial skills among the individuals on the database, adding to current understanding of DLD across age groups. What are the potential or actual clinical implications of this work? Our aim is that the E-DLD will provide much-needed facilitation of research into DLD. E-DLD will enable those with DLD and their families more readily to shape research agendas and to participate in studies that interest them. Families may be recruited into research that could directly translate to better clinical treatment of DLD. We also believe that the E-DLD yearly survey holds potential to provide key information on the development and longitudinal experience of children and adults with DLD.
| | |
| --- | --- |
| Publication Type: | Article |
| Additional Information: | © 2022 The Authors. International Journal of Language & Communication Disorders published by John Wiley & Sons Ltd on behalf of Royal College of Speech and Language Therapists. This is an open access article under the terms of the Creative Commons Attribution-NonCommercial-NoDerivs License, which permits use and distribution in any medium, provided the original work is properly cited, the use is non-commercial and no modifications or adaptations are made. |
| Publisher Keywords: | database, research facilitation, developmental language impairment, cohort, specific language impairment (SLI) |
| Subjects: | R Medicine > RC Internal medicine > RC0321 Neuroscience. Biological psychiatry. Neuropsychiatry |
| Departments: | School of Health & Psychological Sciences > Language & Communication Science |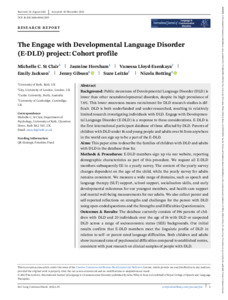 Preview
Text - Published Version
Available under License Creative Commons Attribution Non-commercial No Derivatives.
Download (356kB) | Preview
Export
Downloads
Downloads per month over past year