Big Data Assurance: An Approach Based on Service-Level Agreements
Ardagna, C. A., Bena, N., Hebert, C. , Krotsiani, M., Kloukinas, C.

ORCID: 0000-0003-0424-7425 & Spanoudakis, G.

ORCID: 0000-0002-0037-2600 (2023). Big Data Assurance: An Approach Based on Service-Level Agreements. Big Data, doi: 10.1089/big.2021.0369
Abstract
Big data management is a key enabling factor for enterprises that want to compete in the global market. Data coming from enterprise production processes, if properly analyzed, can provide a boost in the enterprise management and optimization, guaranteeing faster processes, better customer management, and lower overheads/costs. Guaranteeing a proper big data pipeline is the holy grail of big data, often opposed by the difficulty of evaluating the correctness of the big data pipeline results. This problem is even worse when big data pipelines are provided as a service in the cloud, and must comply with both laws and users' requirements. To this aim, assurance techniques can complete big data pipelines, providing the means to guarantee that they behave correctly, toward the deployment of big data pipelines fully compliant with laws and users' requirements. In this article, we define an assurance solution for big data based on service-level agreements, where a semiautomatic approach supports users from the definition of the requirements to the negotiation of the terms regulating the provisioned services, and the continuous refinement thereof.
Publication Type:
Article
Additional Information:
This is the accepted version of the following article: Ardagna, C. A., Bena, N., Hebert, C. , Krotsiani, M., Kloukinas, C. & Spanoudakis, G. (2023). Big Data Assurance: An Approach Based on Service-Level Agreements. Big Data, which has now been formally published in final form at Big Data at https://doi.org/10.1089/big.2021.0369. This original submission version of the article may be used for non-commercial purposes in accordance with the Mary Ann Liebert, Inc., publishers' self-archiving terms and conditions.
Publisher Keywords:
Service-Level Agreements, Big Data Analytics, Big Data Assurance, Model Checking
Subjects:
H Social Sciences > HD Industries. Land use. Labor
Q Science > QA Mathematics > QA75 Electronic computers. Computer science
Departments:
School of Science & Technology > Computer Science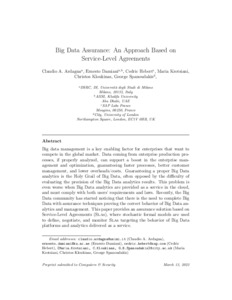 Preview
Text - Accepted Version


Download (671kB) | Preview
Export
Downloads
Downloads per month over past year