Developing an integrated MDT service model for the management of patients with lung cancer
Sridhar, Balasubramanian (2013). Developing an integrated MDT service model for the management of patients with lung cancer. (Unpublished Doctoral thesis, City University London)
Abstract
The motivation for this research was the publication in 1995 of the Calman-Hine report. This provided a strategic framework for the delivery of cancer care by creating a network of cancer care centres in England and Wales to enable patients to receive a uniformly high standard of care. The report acknowledged the fact that although the evidence on optimal cancer care used to prepare the report was based on two key sources (i) medical literature and (ii) audit data provided by UK cancer registries, they did not lend themselves to controlled experiments as most information came from retrospective analyses; hence they were subject to a number of possible flaws and biases.
Yet the report recommended some key structural changes to be implemented. The focus of the research described in this thesis was centred on the recommendation of a multidisciplinary team (MDT) review of patients prior to a treatment decision, both in general cancer units as well as in specialised cancer centres. Given the mandate to implement these recommendations, the research questions addressed were "can the current configuration support this recommendation?", "what evidence was there to support the effectiveness of the MDT?" and "was there a model of care to support the service delivery of cancer care?" A literature review established that there was no existing template upon which MDT services could be set up. This research therefore set out to develop an MDT model to support operational delivery of care in the setting of a cancer centre. The clinical specialty in which this research was undertaken was that of lung cancer.
The research successfully developed a conceptual model. However, in the process, a number of operational and practical constraints were identified within the revised service configuration designed to deliver high quality cancer care through the incorporation of the MDT service, and this ultimately limited the extent to which the model could be deployed in the particular clinical setting. Nevertheless, the modelling process did enable a range of core issues to be identified, enabling design solutions to be formulated and tested, thereby confirming the effectiveness of the MDT model. In particular, the adoption of a soft modelling approach was shown to be beneficial in addressing operational problems. By engaging clinical and other end-users right from the start in the modelling process, the models did become operationally accepted, allowing resistance to change to be overcome and the solution to be integrated into the business process.
MDT services are now well established, both in cancer units and cancer centres and published data on their effectiveness in the treatment of lung cancer, although not conclusive; demonstrate an increase in resection rates. However, assessing the long-term impact of MDTs on lung cancer outcomes remains a topic for future research.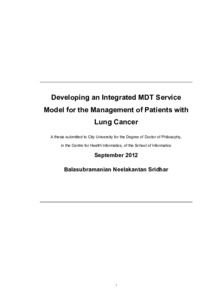 Preview
PDF


Download (20MB) | Preview
Export
Downloads
Downloads per month over past year
Altmetric

Altmetric
CORE (COnnecting REpositories)

CORE (COnnecting REpositories)
Actions (login required)

Actions (login required)