How do men and women write about their feelings and thoughts through Expressive Writing? A pluralistic narrative analysis
Chatzitheodorou, G. (2022). How do men and women write about their feelings and thoughts through Expressive Writing? A pluralistic narrative analysis. (Unpublished Doctoral thesis, City, University of London)
Abstract
This doctoral portfolio consists of three components, a research thesis, a publishable journal article and a client case study and process report, all of which constitute necessary research and clinical practice components of the Professional Doctorate in Counselling Psychology programme. While these components are three independent pieces of work, they are all related thematically. The prominent theme throughout the work is the written and verbal expression of feelings in men's and women's stories and their ability to process, shift or broaden painful stories in order to find new meanings within them. Human beings accumulate a 'repertoire of life stories' during their lifetime which they strive to make sense of and give meaning to (Polkinghorne, 2004, p.53). As our Counselling Psychology field develops, it encourages more and more flexible therapy approaches that pay close attention to fundamental client factors, such as client preferences and expectations, which have been shown to influence therapy outcomes; this is always within the context of a trusting therapeutic relationship and the establishment of a professional emotional bond between therapists and clients (Scheel et al., 2018; Scheel and Conoley, 2012).
The first section of this portfolio involves a pluralistic narrative analysis research consisting of two different analytical levels that examines how men and women express their feelings and thoughts in the course of a 50-minute Expressive Writing task. The findings present the underlying structure of men's and women's narratives as well as the types of stories produced within them, revealing the way they express their feelings and thoughts through the medium of writing. The findings of this study are not intended to underrate the existing types of therapy used in Counselling Psychology clinical practice. Rather, they are hoped to encourage Counselling Psychologists to enhance their creativity, flexibility and patience in engaging their clients in the therapeutic process so that they may facilitate their emotional expression and accommodate their individual needs through alternative means where appropriate. Also, as a result of the Covid-19 pandemic, recent studies have found that males experienced higher levels of stress and anxiety symptoms (Kumari and Singh, 2020) and difficulties in coping with them (Tsukamoto et al., 2021), and women experienced greater levels of depressive symptoms (Vloo et al., 2021) and domestic violence (Thibaut and Wijngaarden-Cremers, 2020). The results of this study may, therefore, contribute to the continued development of Counselling Psychology clinical practice and the increasing demands and responsibilities that currently faces, thereby allowing for a better level of counselling support for male and female clients. In addition, the results may serve as an opportunity to enhance Counselling Psychology educational programmes as well as explore new research avenues in the field.
The second section of this portfolio presents a publishable article for the Journal of Poetry Therapy. This interdisciplinary journal was selected due to its commitment to the publication of research that focuses on the integration of literary arts into a variety of service settings and on healing and growth through language and symbolism including storytelling, writing and lyrics. The article presents the Evaluations identified in the narratives which is one of the six elements of Labov's Model of narrative analysis as well as the 'Narratives of Love', one of the three types of stories produced in the narratives based on a range of characteristics which resulted from the findings of Labov's Model. Compared to the rest of Labov's Model elements, Evaluations represent the most fundamental element of Labov's Model (Labov, 2013) which directly illustrate peoples' feelings and the meanings they attribute to their experiences (Riessman, 2005). Also, 'Narratives of Love' demonstrate that while the narratives in this story type contained experiences of loss, the narrators used the EW task to produce stories about their feelings of love and express their tender thoughts for their loved ones who are no longer in their lives. Therefore, Evaluations and 'Narratives of Love' were selected for presentation since they both have fundamental implications for Counselling Psychology practice. To comply with the journal's guidelines, the entire analysis has been shortened; however, parts of both analytic lenses are presented in an effort to illustrate the pluralistic nature of this research and how the two levels of analysis complemented one another in exploring how men and women express their feelings and thoughts through Expressive Writing.
The third section of this portfolio presents a combined client case study as well as a process report and a reflective discussion for a client I worked with drawing from Narrative Therapy. The work presented was undertaken as part of my clinical work in an NHS GP surgery. In the client case study each stage of the therapeutic process is described and the way the theoretical framework of Narrative Therapy was integrated with my clinical skills aimed at showing my ability to assess my client, formulate his concerns, create a treatment plan, adjust it to the clinical setting and evaluate my practice. The client case study highlights the importance of establishing a trusting therapeutic relationship based on openness and collaboration to enable a multifaceted exploration of concerns. It illustrates a range of Narrative Therapy interventions, and how these were used collaboratively with a client who aimed to understand his anger and worry towards his mother and explore alternative means of managing them. It shows how the client was allowed to share his narrative in his own words and how the problem he brought to therapy was separated from him through the externalisation process (White and Epston, 1990). It presents the process of deconstructing the problem by exploring its emergence and influence in the client's life, the meanings the client assigned to the problem, how certain cultural and social discourses and beliefs he grew up with may have influenced its development and maintenance as well as the exceptions to it (White and Epston, 1990). In addition, it demonstrates the exploration of other stories the client had that did not relate to the problem (White, 2000), such as his hobbies, dreams, hopes for the future, and relationships with others, while it illustrates the new, more powerful stories he started to develop with regards to the problem he brought to therapy. The fundamental role of supervision as well as the challenges encountered throughout the therapeutic work are also discussed. In the process report, a representative transcribed segment from my therapeutic work with the client is presented together with a reflective account and detailed analysis of it, aimed at showing the application of a Narrative Therapy intervention to my clinical practice. In particular, the process report demonstrates how the client was enabled to start separating himself from the problem through exploring a name for it which represented his experience and examining the impact of it on his life and sense of self. An evaluative commentary of the presented segment is provided, while the strengths and the limitations of it are also discussed together with my learnings from my experience and how these were reflected on and addressed. A reflective discussion concludes this section, which describes the connections between the case study and the process report, as well as providing a detailed reflection of the professional identity development I have experienced from my work with this client, including observations, professional and personal insights, and lessons learned.
In conclusion, I consider the development of this doctoral portfolio with its three components to be an important part of my doctorate studies in Counselling Psychology, which contributed to my personal as well as professional identity as an emerging Counselling Psychologist. Τhis work has invited me to reflect on my personal starting point including my experiences and my beliefs about how men and women express their feelings, while it also allowed me to explore my interests and passions and develop my own flexibility and creativity. Throughout this professional training programme, I have gained significant learning opportunities and experience in understanding psychological processes from a variety of psychological approaches, and while this portfolio marks the end of this journey, I intend to continue my learning and development efforts. Sometimes, verbal expression alone might be difficult, and thus, it is my goal to continue creating open and collaborative therapeutic relationships with my clients in which they are able to express themselves through the mediums that are most comfortable for them. Lastly, I would also like to invite my Counselling Psychologist colleagues to maintain their curiosity and be attentive to their clients' unique needs and preferences and to not hesitate to bring their creative sides and ideas into the therapeutic process and experiment them in order to meet their clients where they are.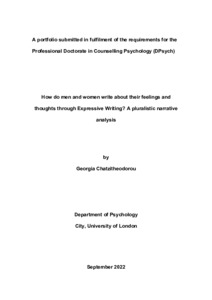 Preview
Text - Accepted Version


Download (1MB) | Preview
Export
Downloads
Downloads per month over past year
Altmetric

Altmetric
CORE (COnnecting REpositories)

CORE (COnnecting REpositories)
Actions (login required)

Actions (login required)