A feasibility randomised controlled trial of elaborated Semantic Feature Analysis delivered in the virtual world, EVA Park
Devane, N. (2023). A feasibility randomised controlled trial of elaborated Semantic Feature Analysis delivered in the virtual world, EVA Park. (Unpublished Doctoral thesis, City, University of London)
Abstract
Background: Aphasia affects 350,00 people in the UK with negative consequences to a person's social connectedness and quality of life. Speech and language therapy interventions aim to mitigate these consequences, but more therapies are needed that address the language impairment and its impact on conversations and quality of life. The use of Virtual Reality (VR) is emerging in aphasia rehabilitation with potential for providing ecological validity for language interventions. This study aimed to develop and test the feasibility and acceptability of an intervention, Virtual Elaborated Semantic Feature Analysis (VESFA), that addresses language and conversation through the virtual world, EVA Park.
Methods: The intervention was developed through mapping out the research evidence, articulating the underlying theories and a programme model, Public Involvement workshops with key user groups, and a qualitative study to investigate meaningful therapy targets. The intervention was tested in a feasibility randomised controlled trial comparing VESFA + usual care with a usual care control. People with word finding difficulties as a result of chronic aphasia were recruited from the community. Feasibility parameters were the percentage of eligible participants who consented to the trial, the percentage of participants available at follow up, rates of cancelled sessions, rates of missing data, the acceptability of the research procedures to participants and the acceptability of the intervention to the participants. Clinical outcomes provided preliminary findings of the impact on language, communication and quality of life.
Results: VESFA is a theory and evidence based intervention. It was found to be feasible against pre-specified feasibility criteria. 91% of eligible participants consented to the trial. 85% of participants were available at follow up. Less than 6% of sessions were cancelled. Participant interviews showed that, despite a testing burden, both the trial protocol and the intervention were acceptable. Preliminary clinical outcomes suggest a future definitive trial of VESFA may show benefit to the retrieval of treated and untreated words and improved quality of life.
Discussion: Good feasibility and acceptability outcomes suggest that this treatment would be a good candidate for a definitive trial. Delivery in the virtual world EVA Park provided opportunity for situated conversations. This was valued by participants but not captured by the outcome measures. A future trial could use an alternative measure for conversations. Preliminary findings suggest that the VESFA intervention shows promise to improve outcomes that are not consistently found in word retrieval therapies.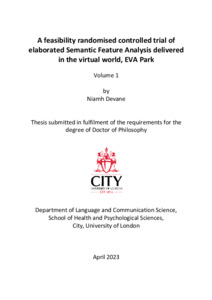 Preview
Text (Volume 1 - Thesis) - Accepted Version


Download (11MB) | Preview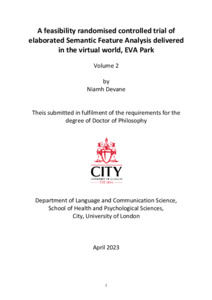 Preview
Text (Volume 2 - Appendices) - Accepted Version


Download (30MB) | Preview
Export
Downloads
Downloads per month over past year
Altmetric

Altmetric
CORE (COnnecting REpositories)

CORE (COnnecting REpositories)
Actions (login required)

Actions (login required)