Linking middle-chain actors to the environmental impacts of food producers and consumers: Underlying drivers and policy implications
Walton, S.

ORCID: 0000-0002-9117-3585 (2023). Linking middle-chain actors to the environmental impacts of food producers and consumers: Underlying drivers and policy implications. London, UK: Centre for Food Policy.
Abstract
The majority of GHG emissions, pollution and biodiversity loss from food systems come from agricultural and dietary practices - that is to say, what is produced on the farm (and eventually eaten) and how we produce it. However, whilst farmers and consumers produce the majority of these impacts, they are not necessarily wholly in control of or always have the ability to mitigate the impacts they produce. Rather, farmers and consumers are operating and living in complex networks where relationships with other actors in the system drive certain behaviours while limiting others. Because of their size and buying power, global food manufacturers and retailers in particular have significant weight in these networks of relationships.
A rapid review of the academic literature examining the interface between middle-chain actors and farmers and consumers was conducted. This evidence synthesis showed that, while the drivers of agricultural and dietary practices are multi-faceted and complex, middle-chain actors, particularly food manufacturers and retailers, exert pressures on farmers and consumers that result in behaviours which lead to negative environmental impacts.
In farming, there is strong evidence that, in horticulture, competition between farmers for a limited number of unpredictable retailer contracts in which stringent cosmetic standards are applied leads to over-production and on-farm food loss. In arable and staple food production, emerging evidence suggests the food processing industry has a role in driving on-farm fertiliser use and driving biodiversity loss through the production of ultra-processed foods. These practices are enabled through the mobilisation of middlechain actors' power in contract negotiations, where retailers and manufacturers are able to off-load the economic and environmental costs of food loss and environmental damage to farmers. This leaves no incentive for these middle-chain actors to measure, report on and adapt their processes to reduce environmental impacts elsewhere in their value chain.
In households, manufacturers and retailers employ a range of tactics to increase sales that drive over-purchasing and consumption of foods at a household and individual level. Interestingly, the evidence is mixed on the impact of some of the more seemingly obvious drivers. It is unclear whether advertising ultra-processed foods (UPFs) to adults drives over-consumption. It is also unclear whether price promotions drive household food waste. Indeed, evidence is thin that processors and retailers are major drivers of household food waste. However, it is clear that promotional strategies such as pack and portion sizes and in-store product placement, underpinned by an 'omnipresence' strategy, play a major role in the amount purchased and consumed, particularly for ultra-processed foods.
The findings of this review point to the importance of taking a policy approach that will facilitate a transition to a value chain of mutual responsibility, where actors along value chains must internalise the risk and costs of Scope III environmental impacts as much as Scope I. This report points to several concrete policy actions that must be taken to ensure that efforts across the value chain are effectively implemented and transparently monitored. Such advances in the EU legislative framework for sustainable food systems will go a long way in advancing value chains towards mutual responsibility for transitioning to a more equitable and sustainable food system.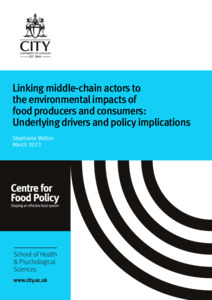 Preview
Text - Published Version


Download (10MB) | Preview
Export
Downloads
Downloads per month over past year
Altmetric

Altmetric
CORE (COnnecting REpositories)

CORE (COnnecting REpositories)
Actions (login required)

Actions (login required)