Automating science journalism tasks: emerging opportunities
Maiden, N.

ORCID: 0000-0001-6233-8320, Zachos, K.

ORCID: 0000-0003-1977-7090, Franks, S.

ORCID: 0000-0002-9449-2725 , Nyre, L. & Linden, C-G. (2023). Automating science journalism tasks: emerging opportunities. Journalism Practice, doi: 10.1080/17512786.2023.2226116
Abstract
Digital tools have the potential to both semi-automate science journalist tasks including the incorporation of more diverse voices in science journalism. This paper reports new design science research that developed then elicited first feedback on one digital prototype with algorithms that semi-automated selected science journalism tasks. The feedback revealed that almost all of participating science journalists were comfortable with increased automation of at least of some of their tasks, as long as opportunities to control and personalize this automation remained. The feedback also revealed the potential value of automation to discover and incorporate a wider range of expert voices, depending on geographical location. The paper ends with preliminary design implications for future semi-automation that provides digitized support for science journalism tasks, then a discussion of the paper's wider research contributions.
Publication Type:
Article
Additional Information:
© 2023 The Author(s). Published by Informa UK Limited, trading as Taylor & Francis Group This is an Open Access article distributed under the terms of the Creative Commons Attribution-NonCommercial-NoDerivatives License (http://creativecommons.org/licenses/by-nc-nd/4.0/), which permits non-commercial re-use, distribution, and reproduction in any medium, provided the original work is properly cited, and is not altered, transformed, or built upon in any way. The terms on which this article has been published allow the posting of the Accepted Manuscript in a repository by the author(s) or with their consent.
Publisher Keywords:
Science communication, science journalism, gender balance, ethnic diversity, automation; digitized support
Subjects:
H Social Sciences > HN Social history and conditions. Social problems. Social reform
P Language and Literature > PN Literature (General)
Q Science > QA Mathematics > QA75 Electronic computers. Computer science
Departments:
School of Communication & Creativity > Journalism
Bayes Business School > Management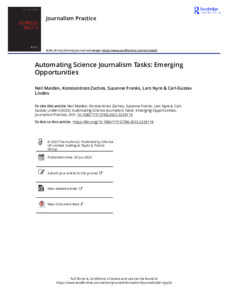 Preview
Text - Published Version
Available under License Creative Commons Attribution Non-commercial No Derivatives.
Download (1MB) | Preview
Export
Downloads
Downloads per month over past year