A Study of Therapy for Language Impairment in Aphasia: Description and Analysis of Sessions in Day-To-Day Practice
Horton, S. (2002). A Study of Therapy for Language Impairment in Aphasia: Description and Analysis of Sessions in Day-To-Day Practice. (Unpublished Doctoral thesis, City, University of London)
Abstract
The methods used by therapists in the process of language therapy with people with aphasia are often ascribed to 'clinical intuition', and are seldom explicitly described in therapy studies. Many of the problems surrounding replication of language therapy in aphasia and the understanding of what constitutes effective therapy centre around the implicit nature of how therapists make decisions about implementing therapy on a moment-by-moment basis.
Language impairment therapy is often reported in terms of tasks or activities. Reference to cueing or feedback may be made, but the role played by the person with aphasia in these processes usually goes unreported. It has been argued, however, that therapy is not synonymous with the task but takes place through the interactive work between therapist and person with aphasia.
In order to further our understanding of the process of therapy and to develop an explicit and consistent vocabulary for describing and analysing the enactment of therapy an observational study was carried out. Fifteen therapist-aphasic person dyads participated in the study, contributing video- and audiotape recordings of forty-one therapy sessions. Videotapes and audiotape transcriptions were subject to qualitative analysis using ethnographic methods in a process of analytic induction, in order to develop a descriptive framework. Methods derived from Conversation Analysis were also used in order to examine the detailed interaction between the participants.
In this study therapy is examined and the processes through which it takes place are made explicit in a systematic and orderly fashion, addressing the ways in which task-related work is enacted, and revealing the roles of the participants in the conduct of that work.
This study describes the enactment of tasks in ways which: 1) account for the interactive nature of therapist and aphasic person contributions; 2) demonstrate how processes of task-related work are distributed across the session as a whole; and 3) address task-related work as a technical and a social process.
This study confirms the scope of previous conceptualisations of the enactment of therapy, and provides empirical evidence. In addition, processes through which therapists gained and maintained control of sessions were found to be similar to those found in other healthcare settings.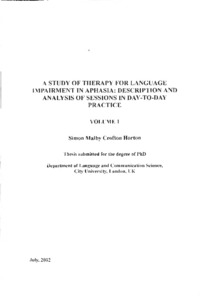 Preview
Text (Vol 1) - Accepted Version


Download (7MB) | Preview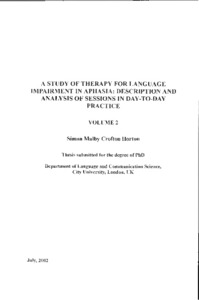 Preview
Text (Vol 2) - Accepted Version


Download (7MB) | Preview
Export
Downloads
Downloads per month over past year
Altmetric

Altmetric
CORE (COnnecting REpositories)

CORE (COnnecting REpositories)
Actions (login required)

Actions (login required)