Becoming in a colonial world: approaching subjectivity with Fanon
Jilani, S.

ORCID: 0000-0002-0024-4801 (2023). Becoming in a colonial world: approaching subjectivity with Fanon. Textual Practice, doi: 10.1080/0950236X.2023.2243908
Abstract
Space and place were the objects of colonial domination, but the transformation of minds – through language, education and more – was where colonialism also shaped subjectivities. For Frantz Fanon, understanding the relationship between the colonial conditions in which one is situated, and the interiorised effects of these conditions, was a psycho-political problem of immediate relevance to anti-colonial struggles. Putting into conversation Fanon scholarship that helps bring into view this relationality, this essay argues that his thinking on the self as a material phenomenon, constituted and re-constituted in dialectical relation to the world, rests on three broad aspects: historicity, embodiment, and creative action. Sustaining fault lines in the experiential effects of colonialism, these can foster conditions of transformation in people's ways of relating to themselves and to one another – the reconstituting of their subjectivities – in contextually determined ways. Understood through these characteristics, Fanon's conceptualisation of subjectivity advances routes of 'becoming' despite and out of colonialism. As such, I propose that even though his self–world dialectic does not look to circumscribe the outcomes of these transformations, it decisively locates the remaking of selves within confrontations with the world that pursue the liberation of others.
Publication Type:
Article
Additional Information:
© 2023 The Author(s). Published by Informa UK Limited, trading as Taylor & Francis Group This is an Open Access article distributed under the terms of the Creative Commons Attribution-NonCommercial-NoDerivatives License (http://creativecommons.org/licenses/by-nc-nd/4.0/), which permits non-commercial re-use, distribution, and reproduction in any medium, provided the original work is properly cited, and is not altered, transformed, or built upon in any way. The terms on which this article has been published allow the posting of the Accepted Manuscript in a repository by the author(s) or with their consent.
Publisher Keywords:
Frantz Fanon, subjectivity, colonialism, decolonisation, embodiment, racialisation
Subjects:
H Social Sciences > HN Social history and conditions. Social problems. Social reform
J Political Science > JV Colonies and colonization. Emigration and immigration. International migration
Departments:
School of Communication & Creativity > Media, Culture & Creative Industries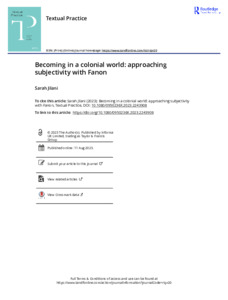 Preview
Text - Published Version
Available under License Creative Commons Attribution Non-commercial No Derivatives.
Download (1MB) | Preview
Export
Downloads
Downloads per month over past year
Altmetric

Altmetric
CORE (COnnecting REpositories)

CORE (COnnecting REpositories)
Actions (login required)

Actions (login required)