Analyzing the changing landscape of the Covid-19 vaccine debate on Twitter
Santoro, A., Galeazzi, A., Scantamburlo, T. , Baronchelli, A.

ORCID: 0000-0002-0255-0829, Quattrociocchi, W. & Zollo, F. (2023). Analyzing the changing landscape of the Covid-19 vaccine debate on Twitter. Social Network Analysis and Mining, 13, 115. doi: 10.1007/s13278-023-01127-3
Abstract
The issue of vaccine hesitancy has posed a significant challenge during the Covid-19 pandemic, as it increases the risk of undermining public health interventions aimed at mitigating the spread of the virus. While the swift development of vaccines represents a remarkable scientific achievement, it has also contributed to skepticism and apprehension among some populations. Against this backdrop, the suspension of the AstraZeneca vaccine by the European Medicines Agency further exacerbated an already contentious debate around vaccine safety. This paper examines the Twitter discourse surrounding Covid-19 vaccines, focusing on the temporal and geographical dimensions of the discussion. Using over a year's worth of data, we study the public debate in five countries (Germany, France, UK, Italy, and the USA), revealing differences in the interaction structure and in the production volume of questionable and reliable sources. Topic modeling highlights variations in the perspectives of reliable and questionable sources, but some similarities across nations. Also, we quantify the effect of vaccine announcement and suspension, finding that only the former had a significant impact in all countries. Finally, we analyze the evolution of the communities in the interaction network, revealing a relatively stable scenario with a few considerable shifts between communities with different levels of reliability. Our results suggest that major external events can be associated with changes in the online debate in terms of content production and interaction patterns. However, despite the AZ suspension, we do not observe any noticeable changes in the production and consumption of misinformation related to Covid-19 vaccines.
Publication Type:
Article
Additional Information:
This article is licensed under a Creative Commons Attribution 4.0 International License, which permits use, sharing, adaptation, distribution and reproduction in any medium or format, as long as you give appropriate credit to the original author(s) and the source, provide a link to the Creative Commons licence, and indicate if changes were made. The images or other third party material in this article are included in the article's Creative Commons licence, unless indicated otherwise in a credit line to the material. If material is not included in the article's Creative Commons licence and your intended use is not permitted by statutory regulation or exceeds the permitted use, you will need to obtain permission directly from the copyright holder. To view a copy of this licence, visit http://creativecommons.org/licenses/by/4.0/.
Publisher Keywords:
Covid-19, Vaccine, Misinformation, Infodemic, Twitter, Social media
Subjects:
Q Science > QA Mathematics
R Medicine > R Medicine (General)
Departments:
School of Science & Technology > Mathematics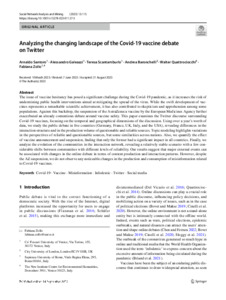 Preview
Text - Published Version
Available under License Creative Commons Attribution.
Download (1MB) | Preview
Export
Downloads
Downloads per month over past year