Piloting a forced-choice task to elicit treatment preferences in geographic atrophy
Enoch, J.

ORCID: 0000-0002-4614-6676, Ghulakhszian, A., Sekhon, M. , Crabb, D. P.

ORCID: 0000-0001-8611-1155, Taylor, D. J. & Dinah, C. (2023). Piloting a forced-choice task to elicit treatment preferences in geographic atrophy. BMC Research Notes, 16, 244. doi: 10.1186/s13104-023-06531-8
Abstract
OBJECTIVE: Geographic Atrophy (GA) is the advanced form of the non-neovascular ('dry') type of age-related macular degeneration (AMD) and responsible for one-quarter of legal blindness in the UK. New therapies delivered by intravitreal injection are in late-stage development, and two such therapies (pegcetacoplan (Syfovre) and avacincaptad pegol (Izervay)) have now been approved for clinical use by the US Food and Drug Administration. These therapies slow down, but do not stop or reverse, progression of GA and they may also increase the risk of developing the neovascular ('wet') type of AMD. Within a larger study exploring the acceptability of these new treatments to people living with GA, we developed a forced-choice exercise to evaluate how participants weigh up benefits and drawbacks of different treatment regimens. This research note reports quantitative and qualitative findings from this exercise.
RESULTS: Twenty-eight participants took part in this exercise. The exercise demonstrated that participants were generally, although not unanimously, in favour of less frequent treatment for GA that was slightly less efficacious in terms of preserving visual function but presented a lower risk of developing wet AMD. Even among a small sample, the exercise demonstrated the highly personal and idiosyncratic decision-making processes influencing participants' choices of preferred hypothetical GA treatment.
| | |
| --- | --- |
| Publication Type: | Article |
| Additional Information: | This article is licensed under a Creative Commons Attribution 4.0 International License, which permits use, sharing, adaptation, distribution and reproduction in any medium or format, as long as you give appropriate credit to the original author(s) and the source, provide a link to the Creative Commons licence, and indicate if changes were made. The images or other third party material in this article are included in the article's Creative Commons licence, unless indicated otherwise in a credit line to the material. If material is not included in the article's Creative Commons licence and your intended use is not permitted by statutory regulation or exceeds the permitted use, you will need to obtain permission directly from the copyright holder. To view a copy of this licence, visit http://creativecommons.org/licenses/by/4.0/. The Creative Commons Public Domain Dedication waiver (http://creativecommons.org/publicdomain/zero/1.0/) applies to the data made available in this article, unless otherwise stated in a credit line to the data. |
| Publisher Keywords: | Geographic atrophy, Complement inhibitors, Intravitreal injections, Acceptability, Qualitative research |
| Subjects: | R Medicine > RE Ophthalmology |
| Departments: | School of Health & Psychological Sciences > Optometry & Visual Sciences |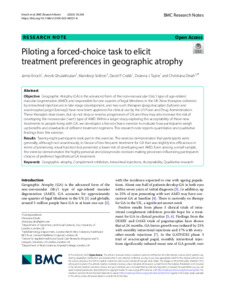 Preview
Text - Published Version
Available under License Creative Commons: Attribution International Public License 4.0.
Download (1MB) | Preview
Export
Downloads
Downloads per month over past year