Measuring customer involvement in new service developments
Larbig-Wust, Christine (2010). Measuring customer involvement in new service developments. (Unpublished Doctoral thesis, City University London)
Abstract
Service marketing managers are being required to develop new services that succeed in the market and are valuable for customers. Services Marketing literature therefore stresses the need to innovate with customers and to integrate their view into the new service developed. However, consensus about the positive effects of customer involvement in new service development (NSD) has not been reached. Drawing on the theory of organisational knowledge creation and the concept of marketing orientation, we argue that customer involvement is not related to successful new services per se. However, we propose it contributes to the increase of a firm's customer knowledge stock, the tacit and explicit dimension. The study results demonstrate that the increase in a firm's tacit customer knowledge stock significantly affects market success, project success and sustainable competitive advantage, while the increase of explicit customer knowledge stock positively influences the acceptance of new service concept ideas initiated by customers. Both the explicit and tacit customer knowledge stock is positively influenced by the level of customer involvement.
Furthermore, the internal resource-based antecedents to customer involvement decisions are investigated. Our findings illustrate that a firm's prior tacit knowledge about customers inhibits integration of customers in NSD, whereas prior explicit customer knowledge positively affects customer involvement. As for market-driven NSD, customer orientation, and project innovativeness, the study shows different effects on stages of customer involvement.
Finally, the research reveals that service firms manage customer involvement differently related to the facets of the construct, namely (1) methods and (2) stages of customer
involvement. Distinct management approaches are compared and contrasted to unearth salient decision parameters.
The research is based on interviews, one expert survey and one main survey, incorporating 131 respondents of diverse service firms in nine countries. Responses have been analysed in two structural equation models by Partial Least Squares (PLS) and explored by cluster analysis.
We suggest that Service Marketing managers should be more attentive to the act of customer knowledge creation to manage customer integration in NSD effectively. Particularly, they should be aware of the role of tacit customer knowledge in order to develop successful new services. A tight customer orientation is not worthwhile throughout NSD, since new markets may be neglected when working too close with current customers. Furthermore, contrary to prevalent research, NSD executives should combine beneficial methods of customer involvement instead of focusing on one method. Using different methods helps managers to create divergent perspectives on customer preferences and needs, required to generate new ideas. Finally, we propose that customer involvement
in NSD should not be seen as a short-term investment.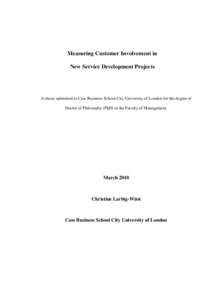 Preview
PDF


Download (5MB) | Preview
Export
Downloads
Downloads per month over past year
Altmetric

Altmetric
CORE (COnnecting REpositories)

CORE (COnnecting REpositories)
Actions (login required)

Actions (login required)