Ideology, culture change, and mnagement patterns in the Israeli Kibbutz
Bar-Yoseph, Benjamin A. (1997). Ideology, culture change, and mnagement patterns in the Israeli Kibbutz. (Unpublished Doctoral thesis, City University London)
Abstract
This thesis addresses the problem of the cultural change in the Israeli Kibbutz, its relevance to the Kibbutz ideology and its implication on Management patterns in the Kibbutz. The thesis is based on four hypotheses. Two of the hypotheses address the cultural changes and two address the changes in management patterns. The cultural change is hypothesised by assuming a change in life style and a change
in the attitude to work as a value. The change in management patterns is hypothesised by assuming a change, at a policy level, of resource allocation and a change in the decision making process.
The research includes several stages:
• A literature research which established the historic cultural and ideological roots
of the Kibbutz movement.
• A collection of general statistics of the Kibbutz movement.
• Five case studies - An in depth analysis of five individual Kibbutzim.
A model of the Kibbutz values and principles is developed and used in analysing the changes in values and principles in the Kibbutz.
The outcome of the research reveals that the Kibbutz is changing from an ideology based commune, which prefers values over matter and is ready to sacrifice individual freedom for the ideals, to a more bureaucratic organisation alming for profits that prefers individual freedom on equality and communality. The Kibbutz movement is turning from an agrarian closed system to a technically advanced community with open economy and culture.
The research outcomes enhance Bertalaruy's claim that a culture within a culture has to change in order to survive. It also demonstrates that a cultural change is an incremental change. What seems to be a radical change is an aggregate result of several incremental changes. It is suggested that a radical change can not be implemented successfully in an organisation unless broken to incremental changes.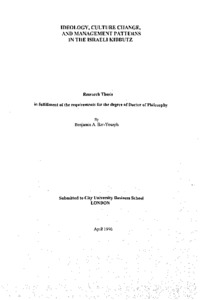 Preview
Text - Accepted Version


Download (41MB) | Preview
Export
Downloads
Downloads per month over past year
Altmetric

Altmetric
CORE (COnnecting REpositories)

CORE (COnnecting REpositories)
Actions (login required)

Actions (login required)