A Hypothesis to Explain Cancers in Confined Colonies of Naked Mole Rats
Hochberg, M. E., Noble, R.

ORCID: 0000-0002-8057-4252 & Braude, S. (2016). A Hypothesis to Explain Cancers in Confined Colonies of Naked Mole Rats (10.1101/079012). Cold Spring Harbor Laboratory.
Abstract
Abstract: Naked mole rats (NMRs) are subterranean eusocial mammals, known for their virtual absence of aging in their first 20 to 30 years of life, and their apparent resistance to cancer development. As such, this species has become an important biological model for investigating the physiological and molecular mechanisms behind cancer resistance. Two recent studies have discovered middle and late-aged worker (that is, non-breeding) NMRs in captive populations exhibiting neoplasms, consistent with cancer development, challenging the claim that NMRs are cancer resistant. These cases are possibly artefacts of inbreeding or certain rearing conditions in captivity, but they are also consistent with evolutionary theory.We present field data showing that worker NMRs live on average for 1 to 2 years. This, together with considerable knowledge about the biology of this species, provides the basis for an evolutionary explanation for why debilitating cancers in NMRs should be rare in captive populations and absent in the wild. Whereas workers are important for maintaining tunnels, colony defence, brood care, and foraging, they are highly vulnerable to predation. However, surviving workers either replace dead breeders, or assume other less active functions whilst preparing for possible dispersal. These countervailing forces (selection resulting in aging due to early-life investments in worker function, and selection for breeder longevity) along with the fact that all breeders derive from the worker morph, can explain the low levels of cancer observed by these recent studies in captive colonies. Because workers in the field typically never reach ages where cancer becomes a risk to performance or mortality, those rare observations of neoplastic growth should be confined to the artificial environments where workers survive to ages rarely if ever occurring in the wild. Thus, we predict that the worker phenotype fortuitously benefits from anti-aging and cancer protection in captive populations.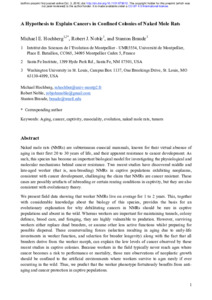 Preview
Text - Accepted Version


Download (544kB) | Preview
Export
Downloads
Downloads per month over past year
Altmetric

Altmetric
CORE (COnnecting REpositories)

CORE (COnnecting REpositories)
Actions (login required)

Actions (login required)