Supporting wellbeing through peer-befriending (SUPERB) for people with aphasia: A feasibility randomised controlled trial
Hilari, K.

ORCID: 0000-0003-2091-4849, Behn, N.

ORCID: 0000-0001-9356-9957, James, K. , Northcott, S.

ORCID: 0000-0001-8229-5452, Marshall, J.

ORCID: 0000-0002-6589-221X, Thomas, S., Simpson, A., Moss, B., Flood, C., McVicker, S. & Goldsmith, K. (2021). Supporting wellbeing through peer-befriending (SUPERB) for people with aphasia: A feasibility randomised controlled trial. Clinical Rehabilitation, 35(8), pp. 1151-1163. doi: 10.1177/0269215521995671
Abstract
OBJECTIVE: To determine the feasibility and acceptability of peer-befriending, for people with aphasia.
DESIGN: Single-blind, parallel-group feasibility randomised controlled trial comparing usual care to usual care + peer-befriending.
PARTICIPANTS AND SETTING: People with aphasia post-stroke and low levels of distress, recruited from 5 NHS Hospitals and linked community services; their significant others; and 10 befrienders recruited from community.
INTERVENTION: Six 1-hour peer-befriending visits over three months.
MAIN MEASURES: Feasibility parameters included proportion eligible of those screened; proportion consented; missing data; consent and attrition rates. Acceptability was explored through qualitative interviews. Outcomes for participants and significant others were measured at baseline, 4- and 10-months; for peer-befrienders before training and after one/two cycles of befriending. RESULTS: Of 738 patients identified, 75 were eligible of 89 fully screened (84%), 62 consented (83% of eligible) and 56 randomised. Attrition was 16%. Adherence was high (93% attended ⩾2 sessions, 81% all six). The difference at 10 months on the GHQ-12 was 1.23 points on average lower/better in the intervention arm (95% CI 0.17, -2.63). There was an 88% decrease in the odds of GHQ-12 caseness (95% CI 0.01, 1.01). Fourty-eight significant others and 10 peer-befrienders took part. Procedures and outcome measures were acceptable. Serious adverse events were few (n = 10, none for significant others and peer-befrienders) and unrelated.
CONCLUSIONS: SUPERB peer-befriending for people with aphasia post-stroke experiencing low levels of distress was feasible. There was preliminary evidence of benefit in terms of depression. Peer-befriending is a suitable intervention to explore further in a definitive trial.Clinical trial registration-URL: http://www.clinicaltrials.gov Unique identifier: NCT02947776Subject terms: Translational research, mental health, rehabilitation, quality and outcomes, stroke.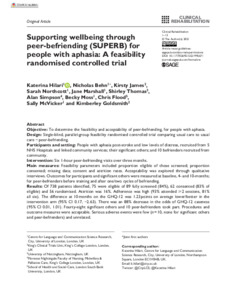 Preview
Text - Published Version
Available under License Creative Commons Attribution Non-commercial.
Download (364kB) | Preview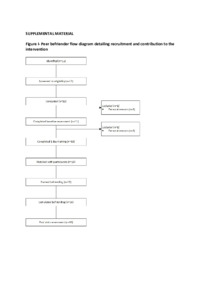 Preview
Text - Published Version
Available under License Creative Commons Attribution Non-commercial.
Download (360kB) | Preview
Export
Downloads
Downloads per month over past year