Gender and the politics of war historiography in Buchi Emecheta's Destination Biafra
Jilani, S.

ORCID: 0000-0002-0024-4801 (2021). Gender and the politics of war historiography in Buchi Emecheta's Destination Biafra. The Journal of Commonwealth Literature, doi: 10.1177/00219894211031803
Abstract
Buchi Emecheta's novel about the Nigerian Civil War, Destination Biafra (1982), challenges war historiography in ways that scholarship designating it a "female perspective" on the conflict can sometimes overlook. This article focuses on how Emecheta deploys a dual narrative approach that weaves an omniscient narrator with diverse Nigerian women's points of view in order to position their lived experiences and subjective knowledges as collectively amounting to the definitive history of the Civil War. This draws the reader's attention to the gendered effects of the civil war as the lens whereby which all facets of the war can be understood - even and especially its macro causes in neocolonialism and petrocapitalism. By writing women who know the economic imperatives behind the conflict; exercise agency under dangerous circumstances; and employ methods of survival that safeguard others, Emecheta reveals the gendered politics of war historiography, and tests these politics by collapsing distinctions between what is habitually conceived of as the war front (and therefore to be narrated by active combatants), and everywhere else (to be narrated by witnesses, refugees, or survivors). Destination can therefore be understood as an attempt to intervene directly in historiographical method, as it rejects the designation of women's war experiences as mere addenda and questions gendered expectations of where to look for and find historical truths.
Publication Type:
Article
Additional Information:
This article is distributed under the terms of the Creative Commons Attribution 4.0 License (https://creativecommons.org/licenses/by/4.0/) which permits any use, reproduction and distribution of the work without further permission provided the original work is attributed as specified on the SAGE and Open Access page (https://us.sagepub.com/en-us/nam/open-access-at-sage).
Publisher Keywords:
Buchi Emecheta, Nigerian Civil War, African Women's Writing, Nigerian Literature, Postcolonial Studies, African Feminisms
Subjects:
D History General and Old World > DT Africa
H Social Sciences > HN Social history and conditions. Social problems. Social reform
J Political Science > JV Colonies and colonization. Emigration and immigration. International migration
P Language and Literature > PL Languages and literatures of Eastern Asia, Africa, Oceania
Departments:
School of Communication & Creativity > Media, Culture & Creative Industries > English, Publishing & Creative Writing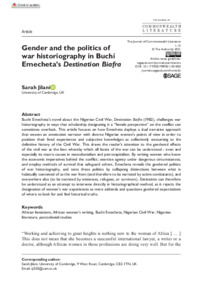 Preview
Text - Published Version
Available under License Creative Commons: Attribution International Public License 4.0.
Download (160kB) | Preview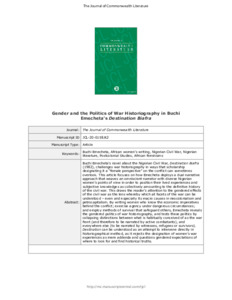 Preview
Text - Accepted Version
Available under License Creative Commons: Attribution International Public License 4.0.
Download (258kB) | Preview
Export
Downloads
Downloads per month over past year
Altmetric

Altmetric
CORE (COnnecting REpositories)

CORE (COnnecting REpositories)
Actions (login required)

Actions (login required)