Mindfulness as a well-being initiative for future nurses: a survey with undergraduate nursing students
Mc Veigh, C., Reid, J., Carswell, C. , Ace, L., Walsh, I., Graham-Wisener, L., Rej, S., Potes, A., Atkinson, K., Edginton, T.

ORCID: 0000-0002-2228-8194 & Noble, H. (2021). Mindfulness as a well-being initiative for future nurses: a survey with undergraduate nursing students. BMC Nursing, 20(1), 253. doi: 10.1186/s12912-021-00783-0
Abstract
Background
Mindfulness can potentially positively impact well-being and resilience in undergraduate nursing students. The psychological well-being of such students undertaking clinical training is paramount to ensure optimal learning, and to equip them with skills to manage their wellbeing in future clinical practice. The aim of our study was to explore the views of undergraduate nursing students in relation to understanding and engaging with mindfulness, and how mindfulness could best be delivered within their university programme.
Methods
An online survey was administered via a cloud-based student response system to a convenience sample of first year undergraduate nursing students completing a Bachelor of Science (BSc) Honours (Hons) degree in nursing at a University in the United Kingdom. Data were analysed using descriptive statistics and thematic analysis.
Results
The survey achieved a response rate of 78% (n = 208). Seventy-nine percent of participants had heard of mindfulness and were interested in taking part in a mindfulness programme. Respondents reported that the ideal delivery of the programme would consist of weekly 45-min, in person group sessions, over a 6-week period. Respondents also indicated that a mobile application could potentially facilitate participation in the programme. Thematic analysis of open-ended comments, and free text, within the survey indicated 4 overarching themes: 1) Perceptions of what mindfulness is; 2) Previous mindfulness practice experiences; 3) Impact of mindfulness in nursing; 4) The need for a future well-being initiative for undergraduate nursing students.
Conclusions
Undergraduate nursing students perceived that a mindfulness programme has the potential to enhance well-being and future clinical practice. This student cohort are familiar with mindfulness and want more integrated within their undergraduate curriculum. Further research is required to examine the effectiveness of a tailored mindfulness intervention for this population that incorporates the use of both face-to-face and mobile delivery.
Publication Type:
Article
Additional Information:
This article is licensed under a Creative Commons Attribution 4.0 International License, which permits use, sharing, adaptation, distribution and reproduction in any medium or format, as long as you give appropriate credit to the original author(s) and the source, provide a link to the Creative Commons licence, and indicate if changes were made. The images or other third party material in this article are included in the article's Creative Commons licence, unless indicated otherwise in a credit line to the material. If material is not included in the article's Creative Commons licence and your intended use is not permitted by statutory regulation or exceeds the permitted use, you will need to obtain permission directly from the copyright holder. To view a copy of this licence, visit http://creativecommons.org/licenses/by/4.0/.
Publisher Keywords:
Mindfulness, Nursing students, Undergraduate, Healthcare, Meditation
Subjects:
B Philosophy. Psychology. Religion > BF Psychology
L Education > LB Theory and practice of education > LB2300 Higher Education
R Medicine > RC Internal medicine > RC0321 Neuroscience. Biological psychiatry. Neuropsychiatry
Departments:
School of Health & Psychological Sciences > Psychology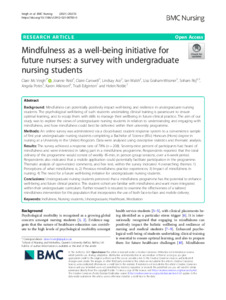 Preview
Text - Published Version
Available under License Creative Commons: Attribution International Public License 4.0.
Download (578kB) | Preview
Export
Downloads
Downloads per month over past year
Altmetric

Altmetric
CORE (COnnecting REpositories)

CORE (COnnecting REpositories)
Actions (login required)

Actions (login required)