Voice related coping in professional voice users - a systematic review
Ramachandran, A.

ORCID: 0000-0002-5519-010X, Hilari, K.

ORCID: 0000-0003-2091-4849, Epstein, R. , Devane, N.

ORCID: 0000-0001-8448-1478 & Hirani, S. P.

ORCID: 0000-0002-1577-8806 (2022). Voice related coping in professional voice users - a systematic review. Journal of Voice, doi: 10.1016/j.jvoice.2022.08.024
Abstract
Objectives: This systematic review explored coping with voice problems in professional voice users. The objectives were to: 1) evaluate how voice-related coping is assessed in professional voice users 2) investigate how they cope with voice problems, and 3) identify factors associated with voicerelated coping.
Design: Systematic review
Methods: A systematic literature search of ten electronic databases using both EBSCOhost and OVID online platforms was conducted following the Preferred Reporting Items for Systematic Reviews (PRISMA) guidelines. Only peer-reviewed articles which assessed coping in the context of voice problems in professional voice users were included. Methodological quality was assessed using Johanna-Briggs Institute Critical Appraisal checklists. Data analysis was conducted using narrative synthesis.
Results: Following deduplication, abstract and full-text screening, seven articles were included in the review. All participants (n=2484) were teachers; no other professional voice users were covered. 98% of the cases studied were females. The tools used to assess voice-related coping were Utrecht Coping List (UCL) and Voice Disability Coping Questionnaire (VDCQ). Studies which used UCL reported a passive coping pattern in teachers with high vocal handicap whereas VDCQ showed increased use of social support. Factors associated with coping were not examined by any of the studies.
Conclusion: Seeking social support was highlighted as a frequently used coping strategy across studies and measures. Teachers with high vocal handicap used a passive coping pattern and active coping styles were not significantly used. Current evidence does not sufficiently specify factors affecting coping in professional voice users. More research on voice-related coping involving all professional voice users is warranted to identify associated factors and further ascertain its influence on vocal health.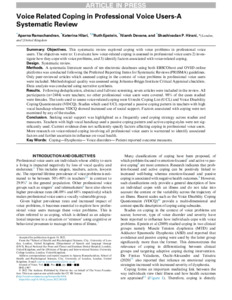 Preview
Text - Published Version
Available under License Creative Commons: Attribution International Public License 4.0.
Download (685kB) | Preview

Text - Accepted Version
This document is not freely accessible due to copyright restrictions.
Export
Downloads
Downloads per month over past year
Altmetric

Altmetric
CORE (COnnecting REpositories)

CORE (COnnecting REpositories)
Actions (login required)

Actions (login required)