Competitive Categorization and Networks: Cognitive Strategic Groups
Han, T., Ghobadian, A., Yim, A.

ORCID: 0000-0002-8063-6572 , Tao, R. & Thomas, H. (2022). Competitive Categorization and Networks: Cognitive Strategic Groups. British Journal of Management, doi: 10.1111/1467-8551.12694
Abstract
Technological advancement compounds the complexity of competitor identification, making it increasingly multi-front and multi-dimensional. Strategic groups are an important unit for competition analysis, typically delineated by firms' characteristic similarities or cognitive maps. Both have inadequacies – the former produces methodological artefacts, and the latter is subject to scale limitations, replicability and managers' cognitive blind spots. Hence, the need for alternatives supplementing the existing approaches. We propose a novel grouping methodology based on news co-mentions, reflecting factual corporate events, executives' and journalists' views, and environmental changes. It yields three advantages. First, news depicts interorganizational relationships, alleviating the concern that strategic groups are statistical artefacts. Second, the approach supplements managers' cognition with that of journalists. Third, the public availability of data offers replicability. The proposed methodology is applied to a sample collected from the US high-tech sector. We document commonalities between the co-mention-based groups and the conventionally used characteristic-based approach. However, the similarity and groups yielded from news co-mentions go beyond characteristic similarities in explaining competitive inclination, suggesting that the co-mention-based approach offers a robust alternative to identifying competitors and strategic groups. Overall, by developing a novel methodology based on a strong theoretical foundation, this study sheds new light on strategic group research.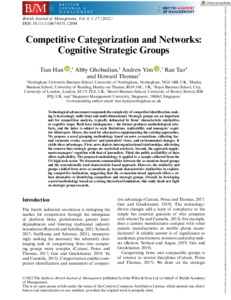 Preview
Text - Published Version
Available under License Creative Commons Attribution.
Download (635kB) | Preview
Export
Downloads
Downloads per month over past year