Bottom-up visions for future of food growing in cities
Chopra, S., Vasiliou, C., Clear, A. K. , Clarke, R., Heitlinger, S.

ORCID: 0000-0001-6148-350X & Dilaver, Ö. (2023). Bottom-up visions for future of food growing in cities. International Journal of Food Design, doi: 10.1386/ijfd_00059_1
Abstract
We report on community food growing as an instance of practice-based sustainability research focused on the design of interactive systems for food growing in future cities. We present a case study with a series of workshops using speculative and participatory design approaches focused on creatively exploring futures of urban food growing with a local neighbourhood community. Working with local grassroots communities is often perceived as more egalitarian for promoting viable long-term and embedded change in cities, yet little work has studied this approach for urban food growing. To explore how we might better articulate and conceptualize collaborative food growing futures, we discuss the creation of bottom-up visions as contestations to hegemonic narratives of power and control in cities. These are affected by, limitations of present resources and infrastructures, inability to work at scale due to lack of buy-in of stakeholders, and erroneous promises of future technologies. Through these reflections on grassroots futures as complex assemblages of social and material realities, we provoke researchers and practitioners to look at envisioning future possibilities with participants, as a web of practices and stakeholders. We further suggest that researchers and practitioners explore these interconnections through assemblages of socio-material realities and visions of high- and low-tech futures. This work is important because it provides a new approach to looking at the design of future technologies for cities and addressing systemic issues of hegemonic food systems through bottom-up actionable futures.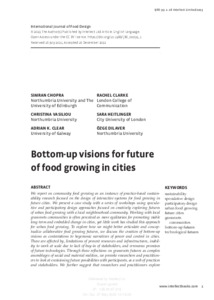 Preview
Text - Published Version
Available under License Creative Commons Attribution.
Download (4MB) | Preview
Export
Downloads
Downloads per month over past year