Globalisation, Convergence & Human Resource Management: A Study of Multinational Corporations in Poland 1996 to 1999
Hetrick, S. R. (2001). Globalisation, Convergence & Human Resource Management: A Study of Multinational Corporations in Poland 1996 to 1999. (Unpublished Doctoral thesis, City, University of London)
Abstract
This study explores the role and function of HRM in MNC subsidiaries in a post command economy, Poland, between 1996 to 1999. The study contributes to the globalisation and convergence debate. Two key control mechanisms: expatriate managers, and HRM practices and processes are explored. Their use by MNC's, to transfer parent company culture, as a means to promote and enforce a global corporate culture is analysed.
The research was conducted in two distinct parts. A longitudinal study compared the processes, policies and practices of HRM in seven MNC subsidiary units from 1996 to 1999 through semi-structured interviews, observation and documentary evidence. The second part explored a further two MNC companies, representing ethnocentric and geocentric examples, using the case study method.
Firstly, the evidence shows that in Poland, HRM is an 'imported' concept. Within MNC subsidiary companies in Poland, it is seen as 'Anglo-Saxon', and quite unlike that existing within Polish firms.
Secondly, there was much evidence of forward diffusion by the MNC parent companies in transferring HRM activities and practises. It was found that MNC's are increasingly aware of how HRM, both as a function and as a practise, is one of the key control mechanisms shaping and integrating employees across cultures.
Thirdly, expatriate managers acted as a key control mechanism in a number of ways: as 'role models', displaying the appropriate company behaviours, values and way of doing things; as 'fixers', adapting corporate values and mission statements; as 'key actors', enacting the HRM practices; as 'networkers' or 'boundary spanners' connecting local managers with other parts of the company; as 'agents of the owners', ensuring that the new subsidiary company could be trusted; and, as 'coaches' or 'mentors' transferring knowledge to local managers. Their role is of more value in the globalisation process, than the literature on transnational management acknowledges.
Fourthly, other factors such as the company's business strategy: greenfield or acquistion, were found to impede or promote the transfer of parent company culture.
Finally, the extent, geocentric companies exist is questionable.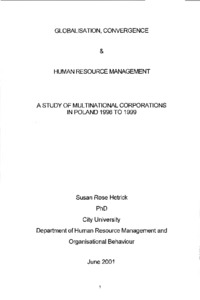 Preview
Text - Accepted Version


Download (7MB) | Preview
Export
Downloads
Downloads per month over past year
Altmetric

Altmetric
CORE (COnnecting REpositories)

CORE (COnnecting REpositories)
Actions (login required)

Actions (login required)