Exploitation and Exploration of Advanced Technology in Financial Institutions
Golder, P. (1997). Exploitation and Exploration of Advanced Technology in Financial Institutions. (Unpublished Doctoral thesis, City, University of London)
Abstract
As the use of information technology becomes more and more pervasive, it is important to understand the use of technology in technology intensive organisation and firms that intensively use technology. Using a particular set of financial institutions, this study seeks to understand how forms and structures of advanced technology are used in organisations that intensively use technology such as financial institutions. This research is conducted through the lens of exploitation and exploration of advanced technology in financial institutions and aims to gain a better understanding between the trade-off of these two forms of organisational adaptation.
Following an extensive review of the literature in this field, we analyse the forms and structure of advanced technology in organisations. We propose a conceptual framework, based on disaggregation, to understand and categorise various levels of technological sophistication in organisations, and propose layers that are better suited for exploration and exploitation, respectively. We propose that technology can be used to transform financial services and products into bits of data and information, combined in a variety of ways, which can be disseminated via a plethora of distribution channels.
Qualitative research methods including 87 interviews and thirteen case studies of financial institutions have indicated that substantial benefits are attributable to the innovation of financial products and services, although these often accrue in intangibles such as reputation. However, the windows of opportunity may be narrow as digital financial services and products are relatively easy to modify and copy and thus the time span left to exploit value from innovation may be limited.
Virtual exchange often tends to be seen as merely one more cheap distribution channel for the online replication of the existing branch experience. Efforts like these, however, miss the opportunities afforded by electronic commerce to rethink the entire value proposition of a financial institution. Conversely, new entrants vary in their focus, but all are pursuing a business model unlike that of the traditional financial institutions. In general, these entrants fall into two groups: those that are focusing on a specific customer segment and those that are focusing on a specific transaction category. The goal of targeting specific customer groups is to develop a trust based relationship with these customers in helping them obtain a wide range of financial services. Thus, these new players are becoming a new form of intermediary that unbundle the relationship management element of the financial services provision business from the product manufacturing and processing elements. Hence, the distinctive value proposition of segmentation will be to develop a deep understanding of a specific customer's needs and to provide access to the best mix of financial services from a multitude of "manufacturers". On the contrary, many banks are still only offering their own products and services. Thus, entrants enjoy the advantage over traditional banks of developing an integrated profile of their customers' preferences. The second group of new entrants is targeting individual product and services categories within financial services and seeks to become the preferred location for the exchange thereof. Instead of trying to own customers, these entrants target specific types of transactions and assume that no bank will be able to match their economies of scale or scope of choice in a specific transaction category. However, they welcome banks' participation in their transaction environments as manufacturers of specific products and service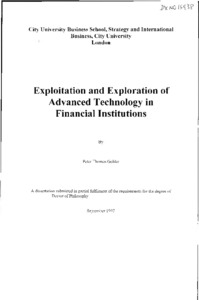 Preview
Text - Accepted Version


Download (13MB) | Preview
Export
Downloads
Downloads per month over past year
Altmetric

Altmetric
CORE (COnnecting REpositories)

CORE (COnnecting REpositories)
Actions (login required)

Actions (login required)